This Special Rosé Aperol Spritz is the perfect twist on your favorite cocktail. Fresh strawberries and dried rose petals made into a simple syrup then mixed with Rosé, Aperol and seltzer. It is sweet, yet oh so refreshing. This Rosé Aperol Spritz is perfect for Valentine's Day or the Spring and Summer. Finish this cocktail off with a strawberry garnish for a delicious romantic cocktail. This easy to make cocktail is uses minimal ingredients.
This post contains affiliate links. Affiliate links support Chelsea Peachhtreee at no additional cost to you. I receive a commission if you choose to make a purchase through these links.
I absolutely love an Aperol Spritz anytime of the year. They are refreshing and fun! There is something about the first sip of it that immediately takes me to happy times.
When Gabe and I were in Italy we drank so many Aperol spritz, I thought we were going to turn orange. They are so cheap in Italy, we actually thought that the price for two was the price for just one (It was only 9 euros for two!!).
So, after our vacation to Italy, we continued to make them all the time. We absolutely love to experiment with different flavors to spice things up.
While we usually use Prosecco in our drinks, we decided to experiment with rosé, and we made one of the best Spritzes yet!
WHAT MAKES THIS ROSÉ APEROL SPRITZ SO SPECIAL?
Easy – It is extremely easy to make! You simply make the simple syrup, which is a combination of strawberries, sugar, water and rose petals. Then, you add it to the glass with the aperol, rosé and seltzer.
Elevated Ingredients – This is not your normal Aperol Spritz. It is made with Rosé, rather than Prosecco, and uses dried rose petals and strawberries.
Scratch Made- This Spritz is scratched made right down to the simple syrup!
INGREDIENTS FOR ROSÉ SPRITZ
To make this Rosé Aperol Spritz, you will need the following: Rosé; Plain Seltzer or Club Soda; Aperol; Dried Rose Petals; Strawberries; Granulated Sugar; and Water.
See FAQ for substitutions and other tips!
TIPS ON HOW TO MAKE THIS ROSÉ WINE SPRITZ
This spritz is very simple ot make, so I will not reiterate basically everything thats already on my recipe card, but here are some tips!
Do not over boil your simple syrup– If you overboil your simple syrup, it will basically turn into a jam. You do not want that.
Use fresh strawberries– Frozen strawberries tend to get a bit to mushy when boiling. This will cause your simple syrup to become too thick.
Go crazy with garnishes– The sky is the limit with garnishes. You can add strawberries, rosemary, mint or so much more.
WHY YOU SHOULD MAKE THIS SPRITZ
Unique and Tasty – It is so incredibly tasty and different from other spritzes you may have had. Swapping the rosé for the prosecco truly makes this strawberry aperol spritz unique rom any other spritz.
Impress Your Friends, Family or Significant Other- This rosé spritz seems like it would be much harder to make than it is! Impress your guests with this fancy cocktail.
Fun and Flirty- Not only is this the perfect Valentine's Day Spritz, it is also a great Mother's Day or Spring cocktail. The romantic roses and fun spring color make this drink perfect for so many occasions.
FAQ CONCERNING ROSÉ APEROL SPRITZ
May I use fresh rose petals?
I have yet to try this recipe with fresh rose petals. If you do try it, please let me know how it goes.May I use Campari instead of Aperol?
Absolutely!!! They are basically the same (in my mind). I just always grab Aperol out of habit.I am allergic to strawberries, may I use another fruit?
Yes! Raspberries would work well too!Can I use something other than granulated sugar to make the Strawberry Rosé Simple Syrup?
You should be able to use a sugar substitute so long as it is granulated. Note, I have not tested it with sugar alternatives, as I am allergic to aspartame.
STORING THIS STRAWBERRY ROSÉ SPRITZ
This cocktail should be made in real time. However, if you are short on time, make the simple syrup beforehand. This will cut 15-20 minutes out of the recipe time. The simple syrup will stay well in an air tight container in the fridge for up to 2 weeks.

DID YOU MAKE THIS RECIPE?
Thank you so much! Please leave me a review on your experience. This not only helps me improve the recipe, but encourages me for the future. Do not forget to tag me on social media too!
Special Rosé Aperol Spritz
This Special Rosé Aperol Spritz is the perfect twist on your favorite cocktail. Fresh strawberries and dried rose petals made into a simple syrup then mixed with Rosé, Aperol and seltzer. It is sweet, yet oh so refreshing.
Ingredients
Special Rosé Aperol Spritz
1.5

oz

Strawberry Rose Simple Syrup

recipe below

1

oz

plain seltzer or club soda

3

oz

Rosé

1

oz

Aperol

Strawberry for garnish

optional
Strawberry Rose Simple Syrup
1

cup

fresh strawberries

1

cup

water

½

cup

osugar

2

tbsp

dried rose petals
Instructions
Special Rosé Aperol Spritz
Prep simple syrup (directions below) first.

Place all ingredients into a glass of your choice and stir. Fill to the top with ice and stir again. Garnish with strawberries. Mint and/or Rosemary would also be great garnishes.
Strawberry Rose Simple Syrup
Place all ingredients into a medium size sauce pan and heat over medium heat, stirring often.

Once the sugar dissolves, remove from heat.

Strain the liquid into a heat resistant glass (throw out the strawberries and rose petals). Allow to cool for 15 minutes in the fridge.
Nutrition
Calories:
676
kcal
Carbohydrates:
153
g
Protein:
1
g
Fat:
1
g
Saturated Fat:
1
g
Sodium:
52
mg
Potassium:
327
mg
Fiber:
3
g
Sugar:
141
g
Vitamin A:
105
IU
Vitamin C:
90
mg
Calcium:
46
mg
Iron:
5
mg
CRAVING MORE PINK COCKTAILS?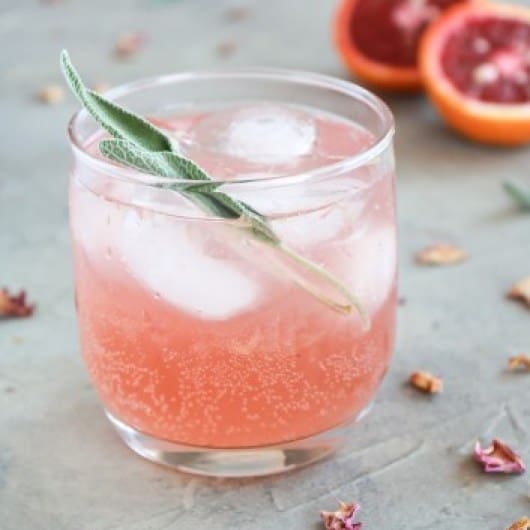 IF YOU ARE CRAVING ANOTHER VALENTINE'S DAY DRINK THAT INCLUDES GIN, CHECK OUT ELISE TRIES TO COOK PINK 75 COCKTAIL!