This delicious spiced pear prosecco drink perfectly pairs pears and cinnamon with prosecco to make a delicious, refreshing fall cocktail.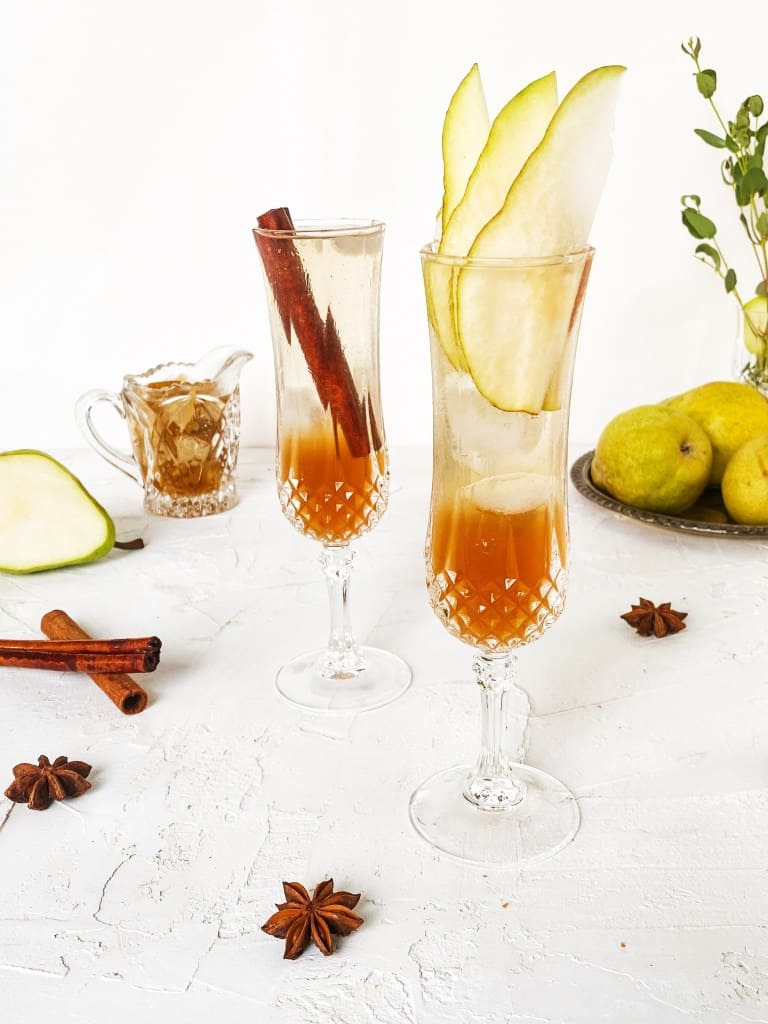 This Cocktail - Spiced Pear Prosecco
This cocktail was inspired by the wonderful flavors of fall. As note above, I feel that pears are forgotten about in the fall. Despite pears being so tasty, everyone is apple and pumpkin crazy, but no one talks about pears. I love pears, as they pair perfectly with most flavors and they are very easy to bake with.
Therefore, my goal is to make a few baked goods with pears this season, but I first wanted to make a cocktail with pears. I knew that they would go pair well with cinnamon and prosecco. This cocktail is refreshing enough for the warmer days of fall, but does give your all the autumn flavors you are craving.
Making Spiced Pear Cocktail
This cocktail could not be any easier to make! It takes about 25 minutes in total to make, due to the requirement of making the simple syrup, and about 15 minutes of cooling time for the simple syrup. I recommend using chilled prosecco so you do not need to cool the simple for too long after making the cocktail.
Simple Syrup
To make this cocktail, you simply chop up a 1 cup of pair, place it into a sauce pan, add ¾ cup of sugar in the raw and 1 ½ cups of water. Then, toss is two cinnamon sticks and heat it up over a medium to low burner! After about 20 minutes, strain the mixture allowing the syrup that you've made into a heat resistant glass. Let it cool for 15 minutes in the fridge.
Then you pour it into the bottom of a champagne flute, approx ⅓ of the way, then top it off with prosecco!
Ingredients
Cinnamon Sticks. Okay, I know this is not always something in your pantry, but it should be! Cinnamon sticks add so much life to recipes, plus they are beautiful to shoot with. If you do not have sticks, sub 1 tbsp of cinnamon into the pot!
Prosecco. I used Mionetto for my cocktail. Any brand of prosecco will do, though! You can also use champagne, but I do believe prosecco tastes a little better with this.

Pears. There is no sub for this! Sorry. I did use Asian and regular pears for this. You can use any type you'd like.
Sugar. I know a lot of people are not the biggest fans of sugar, but this drink is made with simple syrup, so it is hard to sub this out. I used sugar in the raw. You can also use regular sugar. I would not sub this for brown sugar, as it would not work well.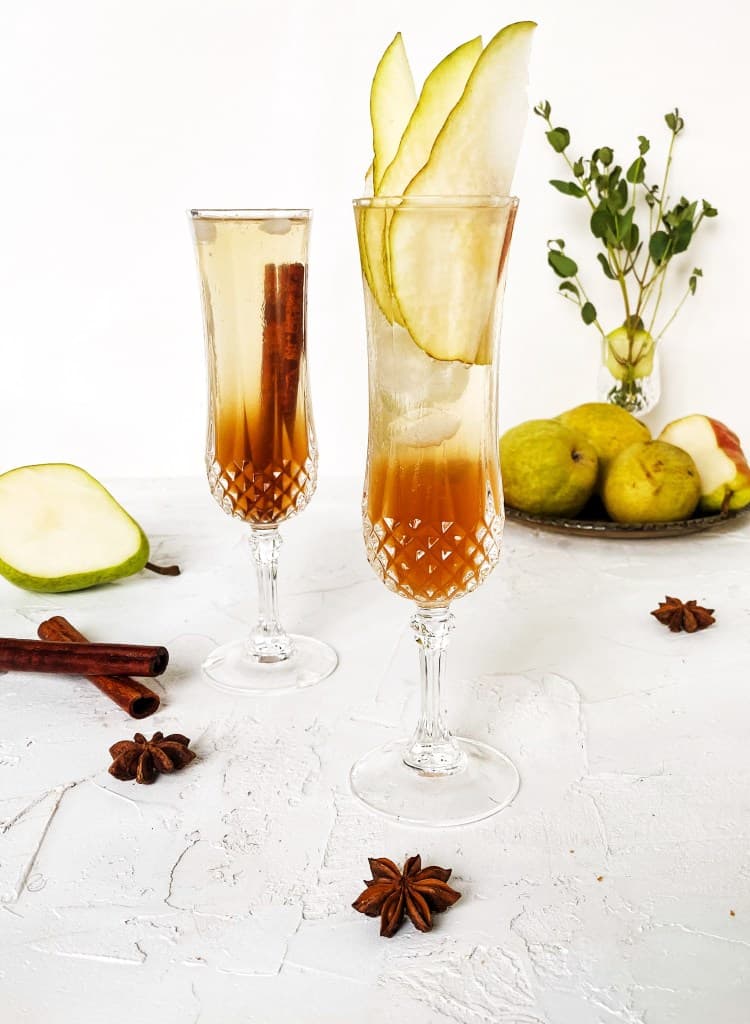 Pairing this Drink with Food
I paired this drink with a delicious vegan flat bread. It would also pair super well with a vegan cheese board (or just on its own!).
Did you make this?
Did you make this cocktail? If so, please leave a review below. Also, please tag me on social media (@peachhtreee). This helps me tremendously and encourages me! Cheers. XOXO
Thirsty for another fall cocktail!?
Check out my apple cider moscow mules here and my boozy pumpkin spice latte here. Cheers!
Delicious Spiced Pear Prosecco
A refreshing fall cocktail pairing wonderful fall flavors. This cocktail has delicious hints of pears and cinnamon, which will satisfy all your fall flavor needs, while refreshing you with the taste of prosecco.
Ingredients
1 ½

cups

water

1

cup

chopped pears

¾

cup

sugar in the raw

2

cinnamon sticks

Prosecco
Instructions
Chill your prosecco. While it is chilling, cut your pear into small cubes.

Place pear, cinnamon sticks, water and sugar in a sauce pan and heat over meduin to low heat.

Stir until sugar dissolves then allow to simmer for 20 minutes.

Strain the pear mixture into a glass jar or cup, allowing the syrup to be divided from the fruit.

Chill the simple syrup for 15 minutes.

Pour the syrup, approx ⅓ of the way, into a champagne flute. Fill the rest of the flute with prosecco. Option to garnish with pear or cinnamon stick. Cheers!
Nutrition
Calories:
544
kcal
Carbohydrates:
140
g
Protein:
2
g
Fat:
1
g
Saturated Fat:
1
g
Sodium:
17
mg
Potassium:
517
mg
Fiber:
9
g
Sugar:
130
g
Vitamin A:
13
IU
Vitamin C:
6
mg
Calcium:
80
mg
Iron:
2
mg