This Creamy Vegan Truffle Pasta is made with tons of fresh garlic and mushrooms and is as luxurious as can be. Enjoy it topped with vegan parmesan, fresh parsley and serve with a glass of Brut Reserve champagne. All you need is 30 minutes to make this date night approved truffle pasta!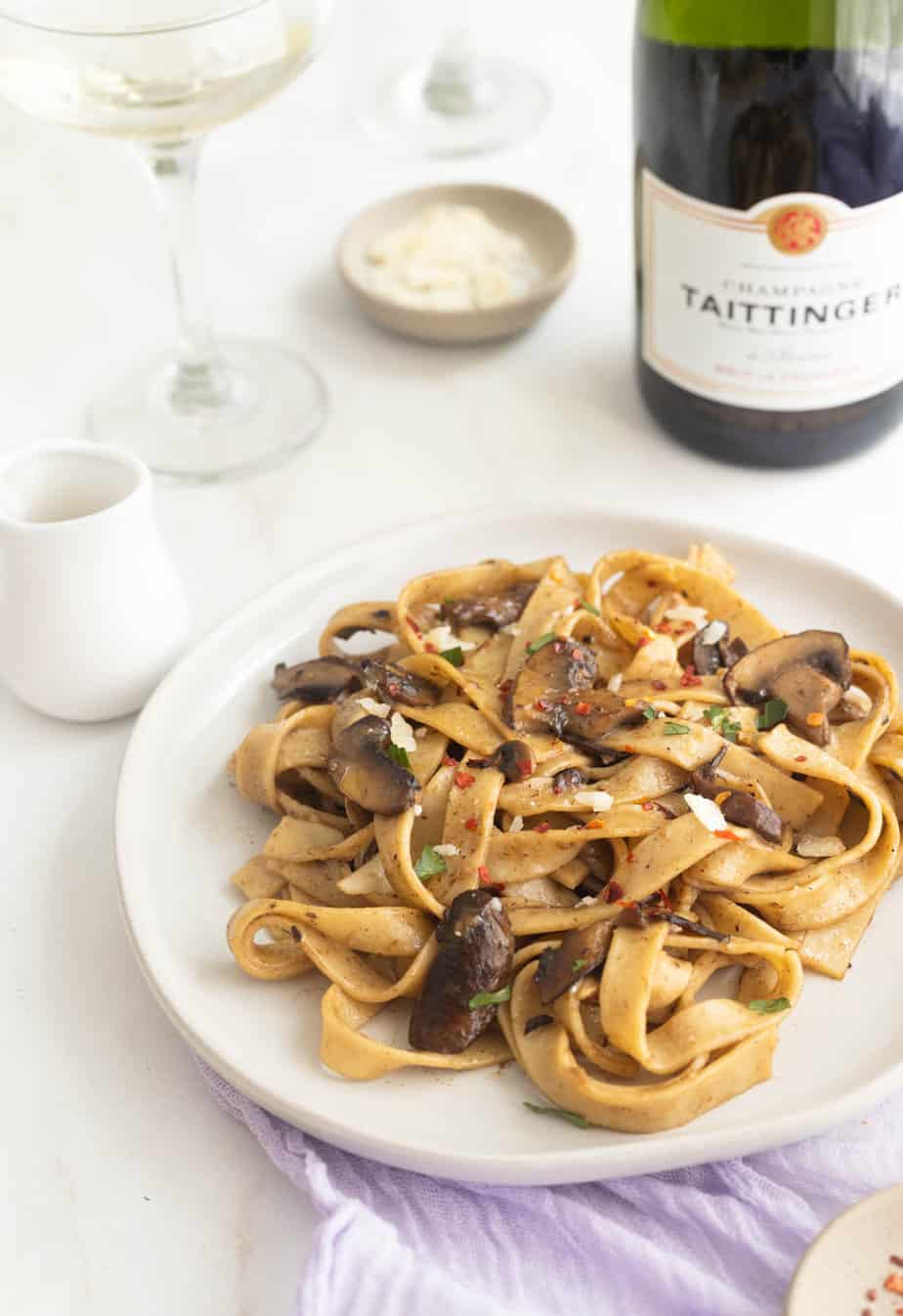 This blog post is sponsored by Taittinger. Taittinger's Brut Reserve is an excellent drink for any celebration. Taittinger is one of the few remaining family owned and operated Champagne houses. They're known for their high-quality production standards and sustainable practices. You can find Taittinger in a store near you.
Why You'll Love This Recipe
Restaurant quality at home. Make this ultra rich, decadent truffle pasta dish at home and impress your loved ones! It's just as satisfying and flavorful as a restaurant entree, but a fraction of the cost. Try my Vegan Shrimp Scampi , my 4 ingredient zucchini pasta and Creamy Vegan Gigi Hadid Pasta too!
Just 5 ingredients! Enjoying delicious vegan pasta at home is not only satisfying, but can be quick and easy too. All you need is 5 ingredients, plus your favorite olive oil and salt and pepper. Couldn't be more simple.
Budget friendly options. When people hear truffle they usually hear expensive, but there are so many truffle oils available, it's easy to find one that fits into your budget and lifestyle. Enjoying the pungent aroma of truffles can be accessible to everyone!
Ingredients and Substitutions
pasta - Use your favorite pasta here. The pasta is cooked separately from the cream sauce, so any type of pasta will work in this truffle pasta recipe. If you are looking for a quick cooking pasta, I recommend angel hair or spaghetti.
truffle oil - There are many truffle oils to choose from, but always check the ingredient list to ensure you are buying a truffle oil that is worth the price point. The flavor between truffle oils varies considerably between brands so do not be afraid to try a few before finding one you love.
mushrooms - I use baby bella mushrooms here, but you can use any mushrooms you have on hand, or even a mix of a few different varieties. Just be sure to slice them about a centimeter width thick so they cook through quickly and evenly. You can even add in some thinly sliced zucchini for more vegetables and nutrition.
coconut cream - Note that coconut cream and coconut milk are not the same. Please only use coconut cream as coconut milk is far less thick and will create a runnier, less rich vegan truffle pasta sauce.
garlic - Fresh garlic is imperative in this truffle pasta dish for the best flavor. I do not recommend substituting it with powdered garlic or onion, shallot, etc..
Step by Step Instructions
Cook the pasta. Bring a large pot of water to a boil, then cook your desired pasta according to package instructions.
Sauté the garlic. In a medium sized skillet, heat olive oil over medium heat. Once hot, add in the minced garlic, stirring constantly for 30 seconds to 1 minute until fragrant. Turn down the heat slightly if your garlic begins to burn or stick to the pan.
Sauté mushrooms. Add the sliced mushrooms to the skillet along with the salt and pepper and toss to coat with the olive oil and sautéed garlic. Sauté for 7-10 minutes, or until the mushrooms are evenly browned on each side. If the skillet appears dry, or the garlic begins sticking, add additional olive oil.
Add coconut cream and pasta water. Once the mushrooms are evenly cooked, add in the coconut cream and reserved pasta water. Cook the coconut cream down until it is completely liquid. Toss the mushrooms and garlic in the rich coconut cream until evenly dispersed.
Remove from heat and add truffle oil. Transfer the skillet to a cool burner on the stovetop and drizzle in the truffle oil. Toss to combine.
Fold in the pasta. Add the cooked and drained pasta into the creamy truffle pasta sauce and fold the noodles into the sauce until evenly coated and creamy.
Serve with garnish. Serve vegan truffle pasta hot with vegan parmesan, fresh parsley and crushed red pepper, as desired.
FAQs
What does truffle pasta taste like?
Truffles are more fragrant than they are flavorful. Their aroma is strong - akin to garlic mixed with a deep earthy, musky scent. Mushrooms are the perfect pairing with truffle pasta because they too have an earthy, meaty texture and compliment the aroma of truffles nicely.
How can you tell if truffle oil is real?
Check the ingredients list. A real truffle oil should say "truffles" or "truffle extract" in the ingredients list. Versions that list "truffle aroma" or "truffle essence" in the ingredients list are not made with real truffles. Another telltale sign of real truffle oil is you will be able to see residual truffle flakes settled in the bottom of the oil jar.
What can I serve with truffle pasta?
I always serve truffle pasta with Taittinger's Brut Reserve Champagne. It helps elevate this classic, restaurant quality dish and makes it perfect for special occasions and celebrations.
Is vegan pasta gluten free?
No, vegan pasta is not naturally gluten free. Typical dried pastas you will find in grocery stores are almost always made from wheat. Wheat is vegan, but it is not gluten free. If you would like to make this vegan truffle pasta gluten free, use a gluten free pasta made from lentils, beans, or brown rice. There are many options to choose from.
Tips for Success
Be careful when sautéing the garlic. It is quite easy to burn minced garlic when sautéing if you are not watching the pan closely or stirring frequently enough. When in doubt, lower the heat to prevent it from browning too quickly. Once garlic burns, it will make the rest of your truffle pasta dish taste burned as well.
Serve immediately! Although many of my recipes are suitable for meal prep, this vegan truffle pasta is best served fresh. As with any creamy pasta dish, the cream sauce thickens considerably as the pasta sits and absorbs into the pasta. Although you can eat this pasta as leftovers, it will not be nearly as creamy and delicious as it is when served fresh.
More Vegan Pastas You Might Like
If you make this recipe, I would love for you to leave a rating and review. I absolutely love connecting with you!
Creamy Vegan Truffle Pasta
This Creamy Vegan Truffle Pasta is made with tons of fresh garlic and mushrooms and is as luxurious as can be. Enjoy it topped with vegan parmesan, fresh parsley and serve with a glass of Taittinger Brut Réserve champagne. All you need is 30 minutes to make this date night approved truffle pasta!
Ingredients
½

lb`

pasta of your choice

2

cups

baby bella mushrooms

sliced

1

tbsp

truffle oil

2

tbsp

reserved pasta water

2

tbsp

Exrta virgin olive oil

4

cloves

garlic

minced

½

cup

full fat, canned coconut cream

(used hard portion on top, not liquid)

½

tsp

salt

½

tsp

pepper

Vegan Parmesan + Parsley + Crushed Red Pepper for topping
Instructions
Cook pasta according to package. Do not forget to reserve 2 tbsp of pasta water when it is done cooking.

While the pasta is cooking, add olive oil to a medium to low size skillet. Allow the olive oil to warm.

Once the olive oil is warmed, add minced garlic and sauté until fragrant. Be careful not to burn it.

Next, add in the salt, pepper and sliced mushrooms and gently toss them in the olive oil and garlic.

You may need to add more olive oil it the skillet appears to be dry.

Sauté for approx. 7-10 minutes, stirring often to ensure the mushrooms are cooked on both sides evenly. They will get smaller.

Turn to low heat and add the coconut cream + reserved pasta water. Cook the coconut cream down until it is completely liquid, mixing it with the mushrooms and garlic.

Remove from heat and add truffle oil, mixing it well.

Add pasta then mix again until it is fully coated. Top with parsley, crushed red pepper and vegan parmesan.

Enjoy this pasta with a refreshing glass of Taittinger Brut Réserve.
Notes
Important tips:
 You can find Taittinger in a store near you.
Cooking temperatures vary based on each stovetop. Air on the side of caution and cook on a lower temperature if your stove runs hot.
Slice the mushrooms approx ½ centimeter. If you slice the mushrooms thinner or thicker, cooking time will vary.
Truffle oil can be found at some local grocery stores or online. I use Truffletopia brand.
Coconut cream may be found in the asian or indian section of a grocery store, or in the baking section. 
To make this recipe GF, use GF pasta.
You may add thinly sliced zucchini to this recipe (add in when cooking mushrooms) for extra greens.
Storage:
This recipe is best served immediately. If you do need to reheat the pasta, place it in a skillet and gently warm it.
Nutrition
Calories:
509
kcal
Carbohydrates:
90
g
Protein:
17
g
Fat:
9
g
Saturated Fat:
1
g
Sodium:
595
mg
Potassium:
606
mg
Fiber:
4
g
Sugar:
4
g
Vitamin A:
3
IU
Vitamin C:
2
mg
Calcium:
51
mg
Iron:
2
mg