Baking these Biscoff Butter Cookies is the perfect way to use up your Lotus Biscoff cookie butter spread. They're soft, chewy and completely vegan friendly. Enjoy these rich cookies warm straight from the oven.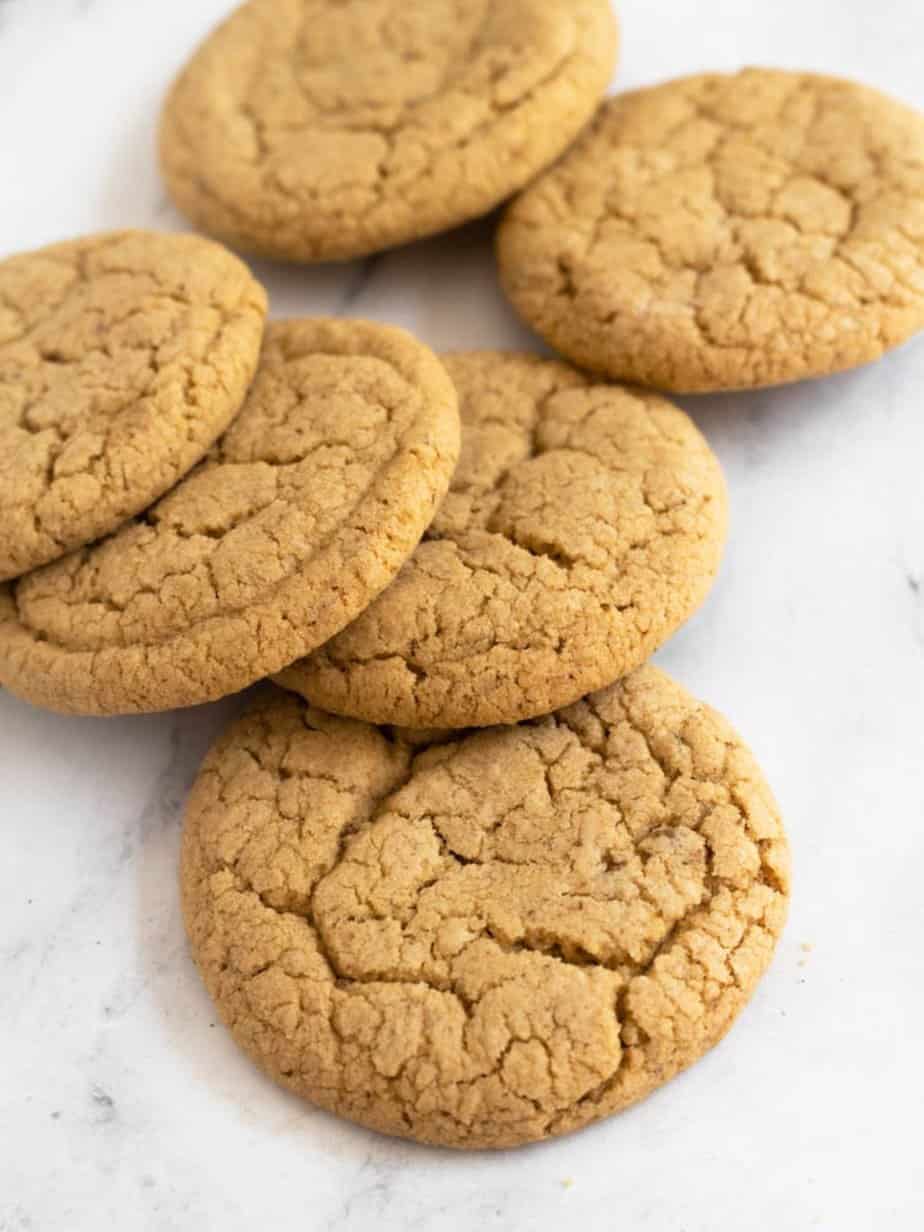 Why You'll Love This Recipe
Extra indulgent. Just like my Vegan Biscoff Brownies + my Biscoff cocktail, these cookies don't disappoint! They're rich, buttery, and guaranteed to satisfy a sweet tooth. For an even more indulgent variety, top each cookie with a scoop of Biscoff cookie butter before baking!
10 easy ingredients. I'm all about no fuss vegan desserts, and these cookies are no different. Easy to make with easy to find ingredients.
No chill time. Lots of cookie recipes require you to chill the batter before baking. These cookies can be baked right away, cutting down the prep time needed!
Ingredient Notes
flour - All purpose flour is almost always a safe choice in baking and is the best flour to use when making Biscoff butter cookies. If desired, you can substitute Bob's Red Mill Gluten Free Flour but note that the cookies will still contain wheat in the Biscoff cookie spread.
vegan butter - Any vegan butter will work here, but vegan butter that comes in a block is best. My favorite to use is Miyoko's Creamery. Make sure to warm your butter to room temperature before starting the recipe or your cookie dough will be hard to cream together.
biscoff spread - Adding biscoff cookie butter spread to your cookies gives them that delicious Biscoff flavor while keeping the cookies soft and smooth. The Lotus Biscoff website even confirms that Biscoff is vegan friendly, non-GMO, contains no preservatives, and no artificial colors. You can also use trader joe's cookie butter spread.
oat milk - I like to use oat milk in most of my vegan baking, but you can use any plant-based milk you have on hand. Just make sure to use an unsweetened milk or your cookies may be overly sweetened.
sugar - This recipe uses both cane sugar and brown sugar. To ensure your cookies are vegan, make sure to use organic sugar. Conventional sugars can be bleached with non-vegetarian ingredients.
Step by Step Instructions
Prepare flax egg - Whisk together 1 tablespoon of ground flaxseed with 3 tablespoons of water and set aside for 10 minutes, or until the mixture becomes gelatinous. Once it has sat, it should become a texture similar to an egg white.
Cream the butter and sugar - In a large mixing bowl, cream the butter, brown sugar and cane sugar together using an electric mixer. Once creamed together, the mixture should be light, fluffy, and can be slightly gritty. If preferred, you can also do this in a stand mixer with the whisk or paddle attachment.
Add in the wet ingredients - Add in the flax egg, vanilla extract, biscoff spread, and oat milk and mix again until combined.
Add in the dry ingredients - Slowly add in the flour, baking soda then mix again until a dough forms. The dough should be soft and not stick to your hands.
Form Biscoff butter cookie dough balls - Using a 1 tablespoon cookie scoop or spoon, scoop 1 tablespoon of the dough onto the baking sheets. Because these cookies spread, you will need to leave about 4 inches between each cookie and use multiple cookie sheets.
Bake - Bake the biscoff butter cookies in batches on the top rack of the oven for 13-15 minutes. After baking, the cookies will still appear soft, but will continue to cook once removed from the oven.
Enjoy! Allow the cookies to cool for 10 minutes, then enjoy while still warm and gooey.
FAQs
Can vegan cookies contain sugar?
Yes, sugar is vegan and can be used to make vegan cookies. Vegan cookies are simply made without animal by-products like eggs, dairy, honey or gelatin. Lucky for vegans, Biscoff butter is accidentally vegan and absolutely delicious!
Is Trader Joe's cookie butter like Biscoff?
Trader Joe's cookie butter is very similar to Biscoff spread and can be substituted in this recipe. The great thing about Biscoff spread is it is widely available in regular grocery stores near the peanut butter and nutella.
Does Biscoff cookie butter need to be refrigerated?
No, you can store your Biscoff cookie butter at room temperature!
Do vegan cookies taste different?
Nope! If you were to share these vegan cookies with friends and family, chances are no one would notice that they were made without eggs or dairy. Vegan cookies often taste almost exactly like regular cookies, especially when made with vegan butter and sugar.
Expert Tips
Plan to take your vegan butter out an hour before baking. The butter needs to come to room temperature before starting so make sure to plan ahead.
Don't over mix the cookie dough. Creaming the butter and sugar for too long can cause too much air to be whipped into the cookie batter and can cause your cookies to have difficulty holding their shape.
More Vegan Desserts You Might Like
Vegan Biscoff Butter Cookies
Baking these Biscoff Butter Cookies is the perfect way to use up your Lotus Biscoff cookie butter spread. They're soft, chewy and completely vegan friendly. Enjoy these rich cookies warm straight from the oven.
Ingredients
1 ¾

cup

all purpose flour

½

cup

vegan butter

softened

½

cup

white sugar

½

cup

brown sugar

loosely packed

1

flax egg

1 tbsp ground flax, 3 tbsp water

1

tsp

vanilla

½

cup

biscoff spread

(option-more for filling)

1

tsp

baking soda

½

tsp

baking powder

¼

cup

plant based milk
Instructions
Prepare your flax egg by combining 1 tbsp of ground flax with 3 tbsp of water. Mix + let it sit for 10 minutes.

Preheat the oven to 350 degrees F and grease a baking tray.

Using an electric mixer (hand or stand0 cream (mix) together the softened butter, brown sugar and regular sugar until combined. It will look gritty.

Add in flax egg, vanilla extract. biscoff and plant based milk + mix. The dough will look very loose.

Slowly mix in the baking soda, baking powder and flour. Mix until combined. The dough will look soft, yet moldable. It should not stick to your hands.

Scoop 1 tbsp of the dough into your hand and roll it into a ball then place it onto the baking tray.

Continue until all dough is used. Space each cookie dough ball approx. 3-4 inches apart. You likely will need to use multiple trays.

Place baking tray into the oven on the TOP rack. You will likely have to bake in batches.

Bake for 13-15 minutes. The cookies will look soft, but they will continue to cook while cooling.

Allow to cool for 10 minutes.

Optional: After 5 minutes of cooling, place backside of a spoon gently onto the cookie to create a small cavity. Fill cavity with approx. ¼ tsp of biscoff. The biscoff will melt while the cookies cool.
Notes
Important Tips:
Be sure to take your vegan butter out at least 1 hour beforehand. Block vegan butter, like Mykonos or Trader Joes brand, is best.
You may use chia egg instead of flax egg.
Bobs Red Mill 1-1 GF flour can be used in place of AP flour, but note cookie butter is not GF.
If your dough is too sticky, add 2 tbsp of flour and mix again.
You can use Trader Joe's cooking butter at a 1-1 ratio for biscoff.
Storage:
Store these cookies in an air tight container in a cool place for up to 5 day.
You can freeze the dough for up to 45 days in a freezer safe container.
Nutrition
Calories:
128
kcal
Carbohydrates:
19
g
Protein:
1
g
Fat:
5
g
Saturated Fat:
1
g
Trans Fat:
1
g
Sodium:
88
mg
Potassium:
22
mg
Fiber:
1
g
Sugar:
10
g
Vitamin A:
185
IU
Vitamin C:
1
mg
Calcium:
15
mg
Iron:
1
mg