Use your Ninja Foodi Air Fryer Oven to make these easy roasted potatoes tonight! All you need is 6 ingredients and 30 minutes to make the best, crispy potatoes at home. Try them dipped in my Creamy Hummus or Easy Honey Mustard for a simple appetizer or dinner side dish.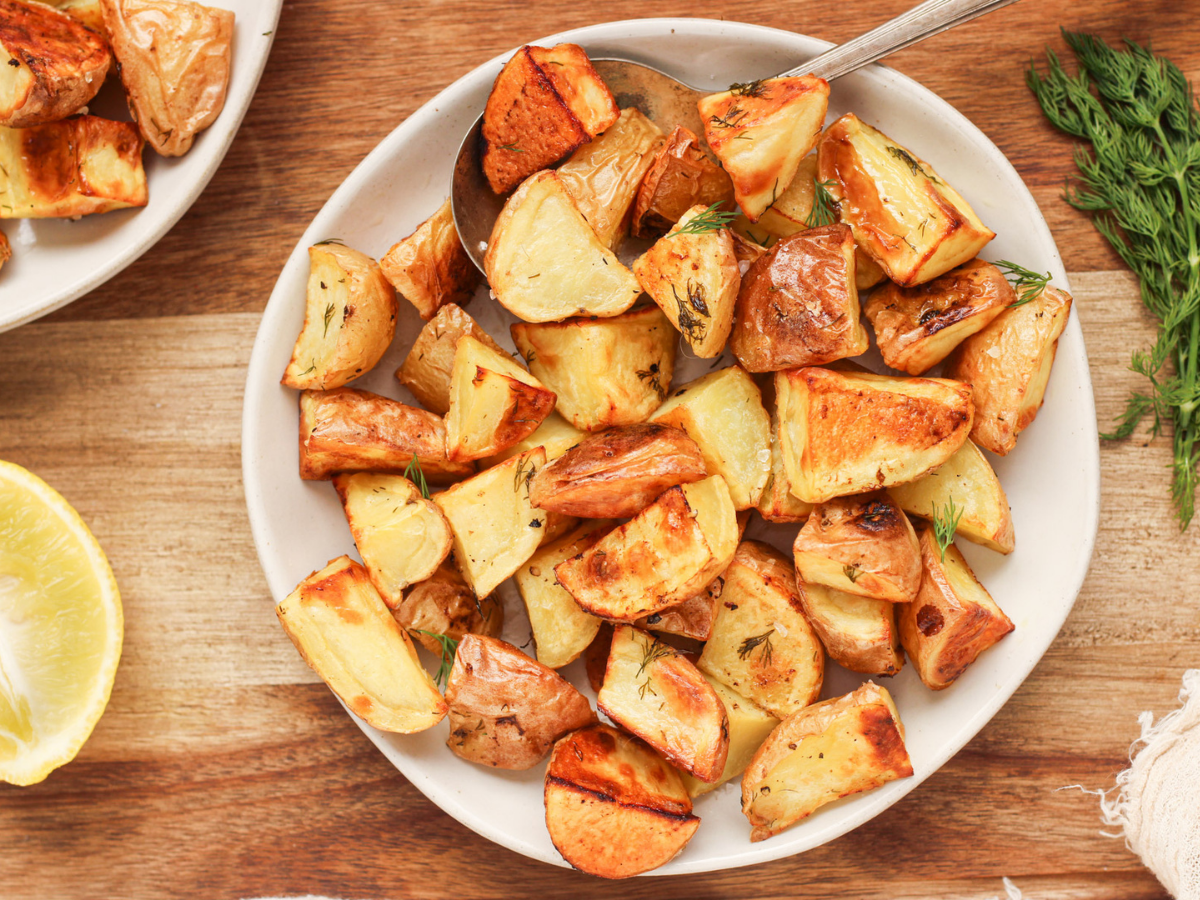 Potatoes are one of my favorite foods of all time. If I could eat potatoes every single day, I would.
These Ninja Foodi roasted potatoes are no exception. They're crispy on the outside, soft and creamy on the inside and just so good!
Why You'll Love This Recipe
Great for weeknights: These roasted potatoes are ready start to finish in 30 minutes and only require 5 minutes of prep work. Easy enough to make on busy weeknights when you need something quick and easy!
Budget friendly: Potatoes are naturally affordable and a great filling and comforting side dish to serve alongside any meal.
Versatile: These roasted potatoes go well with just about anything! Serve them with my Sheet Pan Roasted Vegetable Gnocchi or as a side with my Easy Gluten Free Tomato Soup.
Made with pantry staples: Chances are you have everything you need to make these Ninja Foodi roasted potatoes regularly stocked in your kitchen! Bookmark and save this recipe for future weeknights when you need dinner inspiration.
Ingredients and Substitutions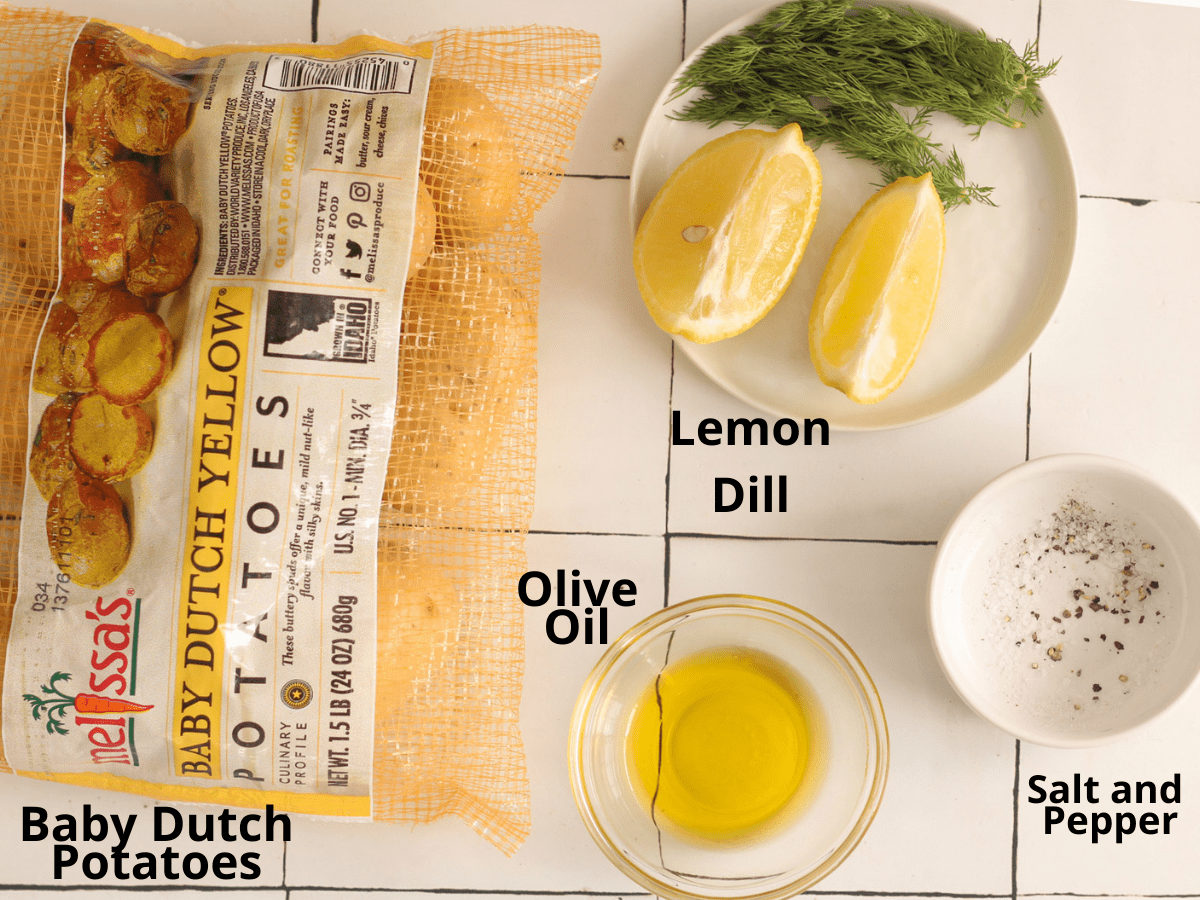 Baby Dutch Potatoes: Also often sold as yellow potatoes or Yukon gold potatoes, baby dutch potatoes are a creamier and waxier variety compared to the starchier russet potato. Baby dutch potatoes also have a thin, smooth skin that is easy to digest and a great source of nutrients. In this recipe you could easily substitute the yellow potatoes with red potatoes as either make great roasted potatoes. If you are going to use a harder potatoes like sweet potatoes, a longer cook time will likely be required.
Lemon: Fresh lemon juice brightens up the flavor of these roasted potatoes and perfectly compliments the flavor of the dill. If using, please make sure to use fresh lemon juice. Pre-bottled lemon juice has a very different flavor and cannot be substituted. If necessary, you can omit.
Dill: I prefer to use fresh dill with these roasted potatoes as it is the most flavorful, but another fresh herb will also work or even dried dill can be substituted.
Oil: Tossing the potatoes in oil is essential to giving them the best crisp and golden brown color possible. I usually use olive oil, but another neutral oil like vegetable oil or avocado oil would also work well. I would avoid using coconut oil unless you are okay with the potatoes having a hint of coconut flavor.
Step by Step Instructions
Prep the potatoes: Scrub the potatoes clean, and chop them into bite-sized pieces. Do your best to keep the pieces roughly the same size for an even bake, but it is okay if it isn't perfect. Additionally, feel free to leave the skin on the potatoes as the skin is thin, nutrient rich and gets nice and crispy in the Ninja Foodi.

Add the chopped potatoes to a large mixing bowl, then drizzle with olive oil. Toss the potatoes in the oil until evenly coated.
Add in the spices: Sprinkle the salt, pepper, lemon juice and fresh dill over the potatoes and toss again to evenly coat the potatoes.
Spread on baking sheet: Transfer the potatoes to a baking sheet or your air fryer tray, and place in the Ninja Foodie. Do your best to spread the potatoes in an even layer. If the baking tray is overcrowded, your potatoes will steam instead of crisp - they need space to crisp up into golden roasted potatoes!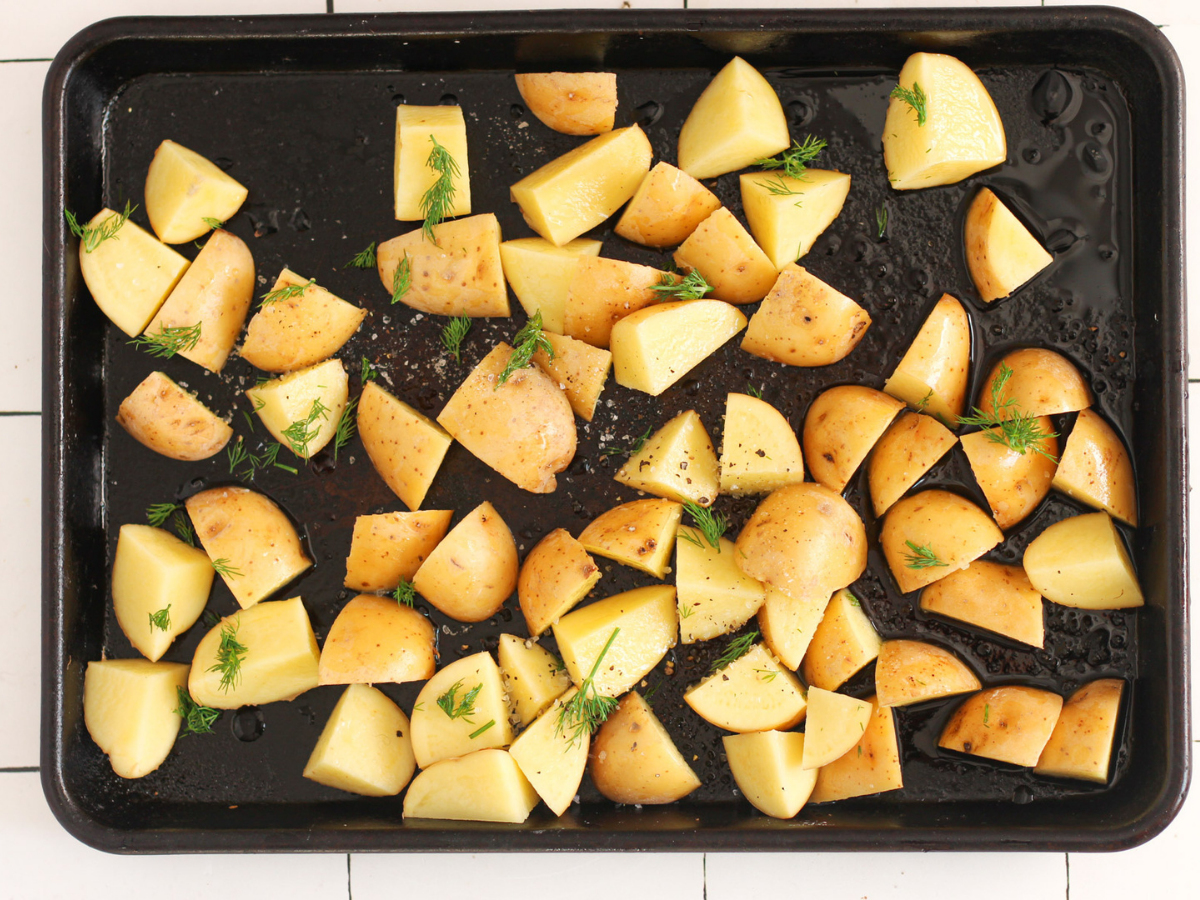 Roast: Roast the potatoes at 425 degrees Fahrenheit for 15 minutes on the Ninja Foodi's "Air Roast" setting, then remove the potatoes, flip, and roast for an additional 10 minutes, or until crispy and golden brown.
Serve: Once crispy, remove the roasted potatoes and allow them to cool for 5 minutes. If desired, top the potatoes with additional fresh dill and another teaspoon of lemon juice for additional flavor. Serve immediately while hot!
FAQs
Can I use foil in my Ninja Foodi Digital Air Fry Oven?
No, using tin foil can cause the Ninja Foodi to overheat and is not recommended. The sheet pan is non stick, but to prevent any sticking, make sure to toss the potatoes in olive oil and you can also spray the pan with non-stick spray as well.
Do I need to preheat the Ninja Foodi before adding the food?
No, the air fry oven automatically preheats, reducing the amount of prep time required!
Should I boil the potatoes before roasting?
These roasted potatoes are made using raw potatoes - no need to boil them ahead of time. The Ninja Foodi Digitial Air Fry Oven will do all the work!
Why do my roasted potatoes go soggy?
Roasted potatoes can be soggy if they are not cooked at a high enough temperature, or if the pan was overcrowded. In order to roast potatoes properly and get a nice brown on them, you need to use a high roasting temperature. It is also important to leave space between the potatoes on the baking sheet or they will steam instead of crisp and yield soggy potatoes.
Can I make roasted potatoes for meal prep?
These potatoes are best served immediately as they lose their crispiness once they sit out or are refrigerated. Any leftovers can be stored in the fridge for up to 4 days. To reheat, simply roast again in the Ninja Foodi for 2-3 minutes, or until warmed through.
Tips for Success
If the pan is looking overcrowded, or if you are doubling this recipe, work in batches. It is better to do a few batches as opposed to add too many potatoes in at once and risk them not roasting properly.
Adjust the amount of spices to taste. I love adding a lot of lemon and dill to mine because it makes them so flavorful, but change up the spices to suit your taste buds.
More Easy Vegan Appetizers To Try
If you make this recipe, I would absolutely love for you to leave a rating and review. I absolutely love connecting with you!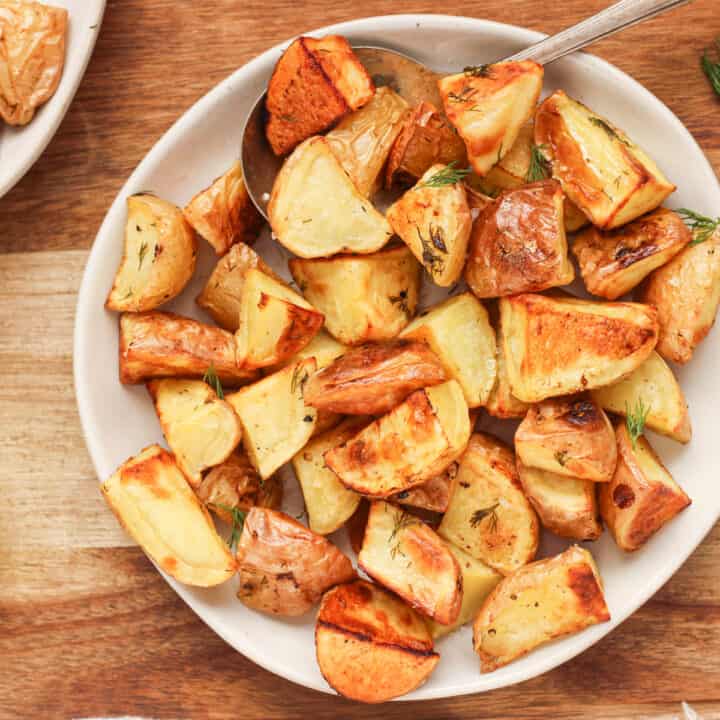 Roasted Potatoes in Ninja Foodi
Use your Ninja Foodi Air Fryer Oven to make these easy roasted potatoes tonight! All you need is 6 ingredients and 30 minutes to make the best, crispy potatoes at home. Try them dipped in my Creamy Hummus or Easy Honey Mustard for a simple appetizer or dinner side dish.
Ingredients
1

lb

Dutch Yellow Potatoes

(approx. 3 ½ cups)

1 ½

tbsp

Extra Virgin Olive Oil

½

tsp

salt

½

tsp

pepper

1

tbsp

lemon juice

optional

2

tbsp

fresh dill

chopped
Instructions
Cut the potatoes into 1 inch bite sizec equal pieces and place into a mixing bowl. There is no need to peel, as the skin is thin and will get crispy.

Drizzle olive oil onto the potatoes and toss until each piece is coated.

Add all additional ingredients into the bowl and toss again until the ingredients are well distributed and cover the potato chunks.

Place onto a baking sheet or your air fryer tray and place into your Ninja Foodi.

Preheat, on the roast setting, to 425 degrees F and roast for 15 minutes.

Remove the tray from the Ninja Foodi and flip the potatoes using a spatula so the opposite side is facing up. Roast again for another 10 minutes.

Remove and allow to cool for 5 minutes. Option to top with another tsp of lemon juice or more fresh dill.
Notes
Important Notes
This recipe is for a Ninja Foodi, which has a roast feature. It is not an air fryer recipe and the temperatures + time may not work the same in an air fryer. 
Substitutions
Potatoes- Dutch potatoes work the best for this recipe, as well as red-skin potatoes. However, you may use any type of potato.
Please note, a harder potato, such as sweet potato, may need a little longer cook time, so add 3-5 minutes extra. 
Dill- You may omit or replace it with another herb. Dried dill also works well for this recipe.
Lemon- You may omit.
Storage
These potatoes are best when consumed immediately.  If you need to store them, you may put them in an air tight container in the fridge for up to 4 days. To reheat, simply roast at the same temperature for 2-3 minutes.
Nutrition
Calories:
96
kcal
Carbohydrates:
1
g
Protein:
1
g
Fat:
11
g
Saturated Fat:
1
g
Sodium:
582
mg
Potassium:
18
mg
Fiber:
1
g
Sugar:
1
g
Vitamin A:
34
IU
Vitamin C:
3
mg
Calcium:
4
mg
Iron:
1
mg