Making Overnight Oats with Frozen Fruit is the EASIEST vegan and gluten-free breakfast meal prep. All you need is 6 ingredients and your favorite frozen fruit to make this creamy, filling breakfast.
I'm so excited to share another quick and easy, realistic breakfast with you! After making my Overnight Oats Without Milk, I knew I wanted to make another version using frozen fruit for another pantry staple option you can make at the last minute on Sunday nights.
Why You'll Love This Recipe
Easy to make all year long - Fresh fruit, particularly berries are hard to find and expensive in the colder months. By using frozen fruit, you can enjoy these oats all year round at affordable prices!
The best meal prep breakfast - If you've been wanting to prep for the week without having to take a ton of time out of your weekend to do so, overnight oats with frozen fruit is the way to go. Follow my easy, customizable steps and have breakfast ready for the week in 10 minutes!
Customize to taste - Change up the frozen fruit, nut butter, and oats according to each person's taste and needs.
Ingredients and Substitutions
rolled oats - Any brand of old fashioned rolled oats will do. If you are gluten-free, make sure to purchase gluten-free rolled oats. Oats are a naturally gluten-free food, but are often harvested very close to wheat or other gluten-containing grains and cross contamination is possible.
milk - Your favorite plant based milk will work, but I'd recommend using a plain, unsweetened milk and sweetening to taste with maple syrup. If you've recently made my Creamy Oat Milk Hot Cocoa or Fluffy Vegan Oat Milk Pancakes, leftover oat milk would work great here.
maple syrup - I use maple syrup because it's what I have most commonly in my kitchen. Another liquid sweetener like agave or honey if you are not vegan would also work equally as well. Adjust the amount of sweetener to taste.
nut butter - Depending on the type of fruit you go with, you may want to adjust the type of nut butter used. For example, peanut butter would pair well with frozen berries or strawberries for a PB&J inspired flavor. If using tropical fruits like pineapple or mango, you may want to go with a macadamia nut butter or a more neutral tasting nut butter like almond butter or cashew butter.
chia seeds - Chia seeds add a boost of healthy fats, omegas and help absorb the liquid and make these oats thick and creamy. If desired, substitute the chia seeds with ground flaxseeds or hemp seeds.
frozen fruit - Use ½ cup of your fruit of choice! I went with berries, but really any frozen fruit will work. If using a larger fruit, like frozen strawberries or mango chunks, cut the fruit into bite sized chunks before making your oatmeal.
Step by Step Instructions
Mix together oatmeal ingredients. In a single serve jar, mix together the rolled oats, plant based milk, maple syrup, vanilla extract, nut butter, chia seeds, and optional cinnamon.
Top with frozen fruit. Don't mix the frozen fruit into the oats before soaking overnight - just allow it to defrost directly on top of the oats. Place in the fridge overnight, or for a minimum of 6 hours.
Mix to combine (optional). Mix the frozen fruit into the oats and enjoy as desired! The frozen fruit will likely release excess moisture, but it will mix well into the oats.
Enjoy immediately. These oats are best chilled and are good delicious drizzled with additional nut butter, granola and almonds.
Storing and Heating Instructions
For best results, store your overnight oats in an airtight container. If the lid is not tight fitting or the oats are loosely covered, they will dry out in the refrigerator.
Overnight oats are typically enjoyed cold straight from the refrigerator, but if you prefer, you can heat these oats with frozen fruit and enjoy them warm.
Time Saving Hacks
Overnight oats are one of my favorite quick breakfast preps when I'm short on time. These oats last for up to 4 days, so I'd recommend doubling or tripling the recipe and make enough for 4 days at once.
I'd also recommend pre-portioning your overnight oats into individual jars you can grab and go on your way out the door in the morning. Mason jars or similar 16 oz jars with airtight lids are inexpensive and work perfectly for this.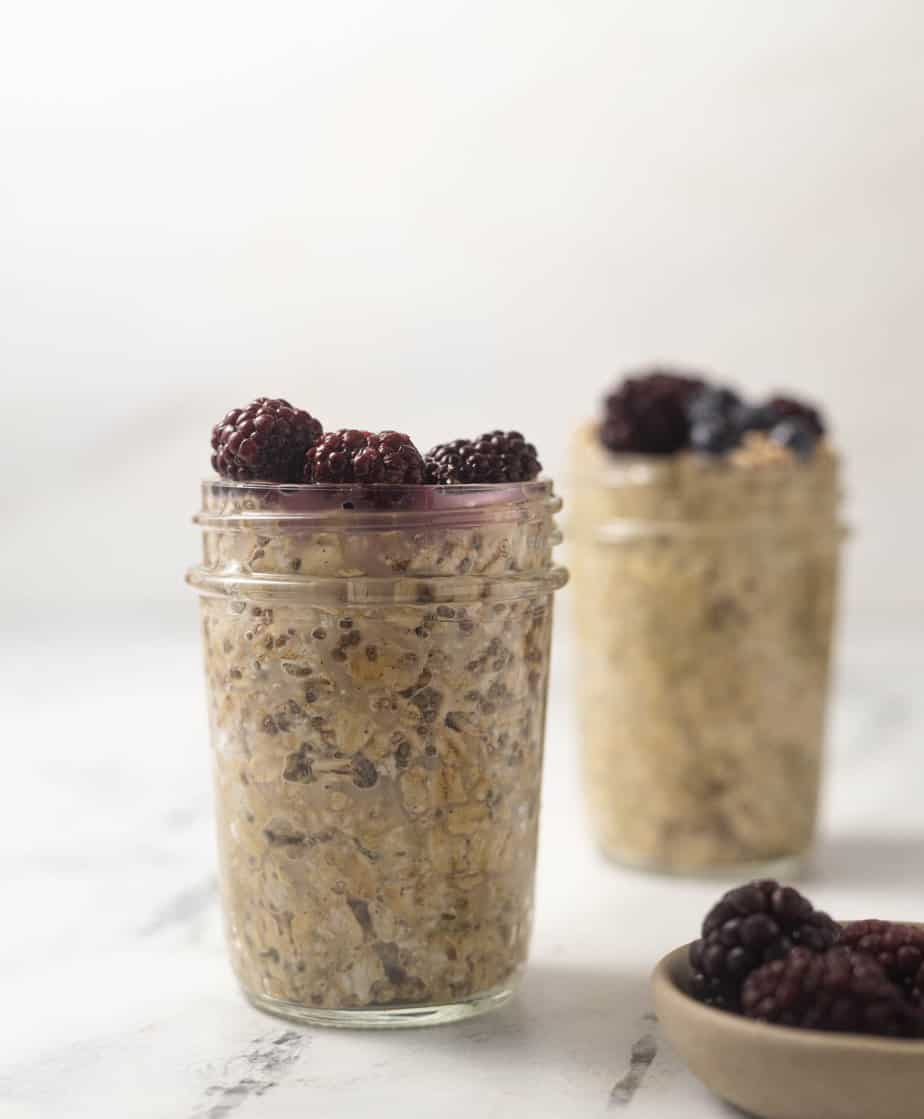 FAQs
What type of oats do I use for overnight oats?
Rolled oats or quick oats. Rolled oats are the most popular choice - they get soft, but still hold texture and are slightly chewy. Quick oats are much softer and will create overnight oats that are more porridge-like. Do not use oat groats or steel cut oats. These oat varieties are too unprocessed and will not become soft enough overnight.
Is frozen fruit healthier than fresh fruit?
It can be. Frozen fruit is almost always picked and frozen at optimal ripeness, which means they're at peak vitamin and mineral content. Fresh fruit, on the other hand, is often picked several days (if not weeks) early to account for packaging, transportation, and time sitting in grocery stores. This can make fresh fruit less nutritionally dense.
Can you eat frozen fruit without defrosting?
Yup! Feel free to eat frozen fruit straight from the bag. All frozen fruit is safe to eat.
Is frozen fruit already washed?
Yes, frozen fruit is almost always washed and cut before packaging. If you are freezing your own fresh fruit at home, take care to thoroughly wash and dry it before freezing.
Tips for Success
Mix the oats thoroughly. If the oats and chia seeds are not properly submerged in the liquid, they won't absorb the liquid and will be too chewy.
Use small chunks of fruit. They will defrost more evenly and be easier to mix into your oats.
More Easy Breakfast Ideas You May Like
If you make this recipe, I would absolutely love for you to leave a rating and review. I absolutely love connecting with you!
The Easiest Overnight Oats with Frozen Fruit
Making Overnight Oats with Frozen Fruit is the EASIEST vegan and gluten-free breakfast meal prep. All you need is 6 ingredients and your favorite frozen fruit to make this creamy, filling breakfast.
Ingredients
½

cup

old fashion rolled oats

1

cup

plant based milk

1

tbsp

maple syrup

or any liquid sweetener

1

tsp

vanilla extract

1

tbsp

nut butter

1

tbsp

chia seeds

½

tsp

cinnamon

optional

½

cup

frozen fruit of your choice

I used mixed berries
Instructions
Combine all ingredients into a sealable container, such as a mason jar. If you are meal prepping, you may separate it into two separate, sealable containers.

Mix well ensuring the oats are thoroughly covered with the liquid mixture.

Add frozen fruit directly on top and place in the fridge overnight, but for at least 6 hours.

Remove top and mix the frozen fruit into the oat mixture.

Because the fruit is frozen, it will defrost slightly, resulting in a small amount of excess water. This is normal and will mix into the oats easily.
Notes
Any fruit works for this recipe. I do recommend, however, using fruit or fruit chunks that are smaller in size due to the excess water that is released while defrosting happens.
You can top the overnight oats with more items after they sit in the fridge overnight. Some of my favorites are extra nut butter, granola and almonds.
Storage: The oats will stay in the fridge for up to 4 days.
Time saving hack: double or triple this recipe for a larger meal prep for the entire week.
Nutrition
Calories:
271
kcal
Carbohydrates:
42
g
Protein:
8
g
Fat:
9
g
Saturated Fat:
1
g
Trans Fat:
1
g
Sodium:
95
mg
Potassium:
251
mg
Fiber:
7
g
Sugar:
20
g
Vitamin A:
269
IU
Vitamin C:
1
mg
Calcium:
244
mg
Iron:
2
mg