These Vegan Biscoff Brownies are stuffed with a thick, gooey layer of biscoff cookie butter and topped with chocolate chips and more Lotus biscoff cookies. They're rich, fudgy, and the perfect way to satisfy your chocolate craving. All you need is 11 simple ingredients!
Why You'll Love This Recipe
Doesn't taste vegan - Although there is a time and place for healthy brownies, I love making brownies that are as indulgent and delicious as a regular brownie. These vegan biscoff brownies taste just like brownies made with dairy and eggs - your family and friends will never guess these cookie butter filled brownies are vegan. Try my Famous Vegan Slutty Brownies, too! If you really love brownies, check out these 25 dairy free brownie recipes!
Lotus biscoff cookies are naturally vegan - There is no need to make a vegan version of the biscoff cookies because the store-bought version is already naturally vegan.
Perfect make ahead dessert - These biscoff brownies store well for up to 5 days. Try making them the day before a BBQ, get together, or event for an easy vegan treat!
Easy to make - These biscoff brownies look incredibly impressive, but they are quite easy to make! Read on in my step by step instructions to see just how easy they are to put together.
Ingredient Notes
Biscoff cookie butter - Biscoff cookie butter is a spreadable butter made from the popular Biscoff cookies and is naturally vegan! Amazon as well as most larger grocery stores carry biscoff cookie butter, but if you cannot find it in stores, try substituting it with Trader Joe's cookie butter.
Dairy free butter - There are many dairy free butters available to choose from, but I recommend using the brands Miyoko's Creamery or Trader Joe's brand. Both butters are sold in blocks and work perfectly for making vegan brownies.
Sugar - This biscoff brownie recipe uses both granulated cane sugar and brown sugar. Both are necessary and cannot be substituted.
Cocoa powder - An essential ingredient in making these brownies chocolatey and fudge-y. If necessary, you can use cacao powder. Just make sure to use a cocoa powder that does not have added sugar.
Flax eggs - Flax eggs are a great, easy egg replacement in vegan baking and work perfectly in this recipe to help bind the biscoff brownie batter together. Ground chia seeds can be substituted 1 to 1.
Flour - For the best, gooey vegan biscoff brownies, use all purpose flour. If needed, you can substitute the all purpose flour with Bob's Red Mill 1-1 gluten-free flour instead (but note these brownies will not be completely GF).
Step by Step Instructions
Prepare the biscoff cookie butter layer - Spread the biscoff cookie butter in an even layer in the bottom of a parchment lined 9x9 baking pan. To make this easy, try scooping the cookie butter into the baking pan with a cookie scoop, placing dollops throughout the bottom, then spreading smooth with a greased spatula or spoon.

If desired, sprinkle 2-3 crushed biscoff cookies into the evenly spread cookie butter and gently press them into the cookie butter. Then stick the biscoff cookie butter layer in the freezer for 1 hour.
Prepare the flax egg. When the biscoff cookie butter layer has about 15 minutes left, begin preparing the rest of the batter by first preparing the flax egg. Whisk together 2 tablespoons of ground flaxseed with 5 tablespoons of water. Set aside for 10 minutes, or until the flax eggs thicken and are gelatinous and jelly like in texture.
Cream the sugar and butter. With an electric hand mixer or stand mixer with the whisk attachment, cream the room temperature butter for 1-2 minutes, or until whipped and fluffy. Then, add in brown sugar and granulated cane sugar and beat together again until the sugar is incorporated into the butter. It is okay if this mixture is slightly gritty.
Add in the remaining wet ingredients. Once the butter and sugar are creamed together, add in the vanilla extract, flax eggs, melted vegan chocolate, and plant-based milk. Mix again until smooth and creamy.
Whisk together the dry ingredients. In a separate, medium sized bowl, whisk together the flour, cocoa powder, salt, and baking soda. Then, add it into the mixing bowl with the wet ingredients and mix together until fully incorporated into the batter (about 2 minutes). At this point the batter will be nice and fluffy.
Fold in the chocolate chips. Once the biscoff brownie batter is fluffy, fold in the remaining ¼ cup vegan chocolate chips. Set the batter aside.
Remove the cookie butter from the freezer. The cookie butter layer should be frozen enough to easily peel away from the parchment paper in a solid layer. If the cookie butter is still sticking, freeze until it is no longer sticking. If it cracks into a few pieces, it is okay. Set this layer aside.
Add half of biscoff brownie batter into bottom of 9x9 baking pan. In the same baking pan you used to freeze the biscoff cookie butter, grease the pan then spread half of the biscoff brownie into the bottom.
Add on frozen cookie butter layer. Directly on top of the first brownie batter layer in the baking pan, place the cookie butter layer. If your cookie butter layer broke into a few pieces, layer it back in in a single uniform layer.
Spread on remaining half of biscoff brownie batter. Top the cookie butter layer with the rest of the brownie batter and spread smooth. If desired, press additional chocolate chips into this top layer of brownie batter.
Press in biscoff cookies. Cover the top of the brownies with biscoff cookies, gently pressing them in to ensure they bake into the brownies. I used about 7 cookies, broken in half.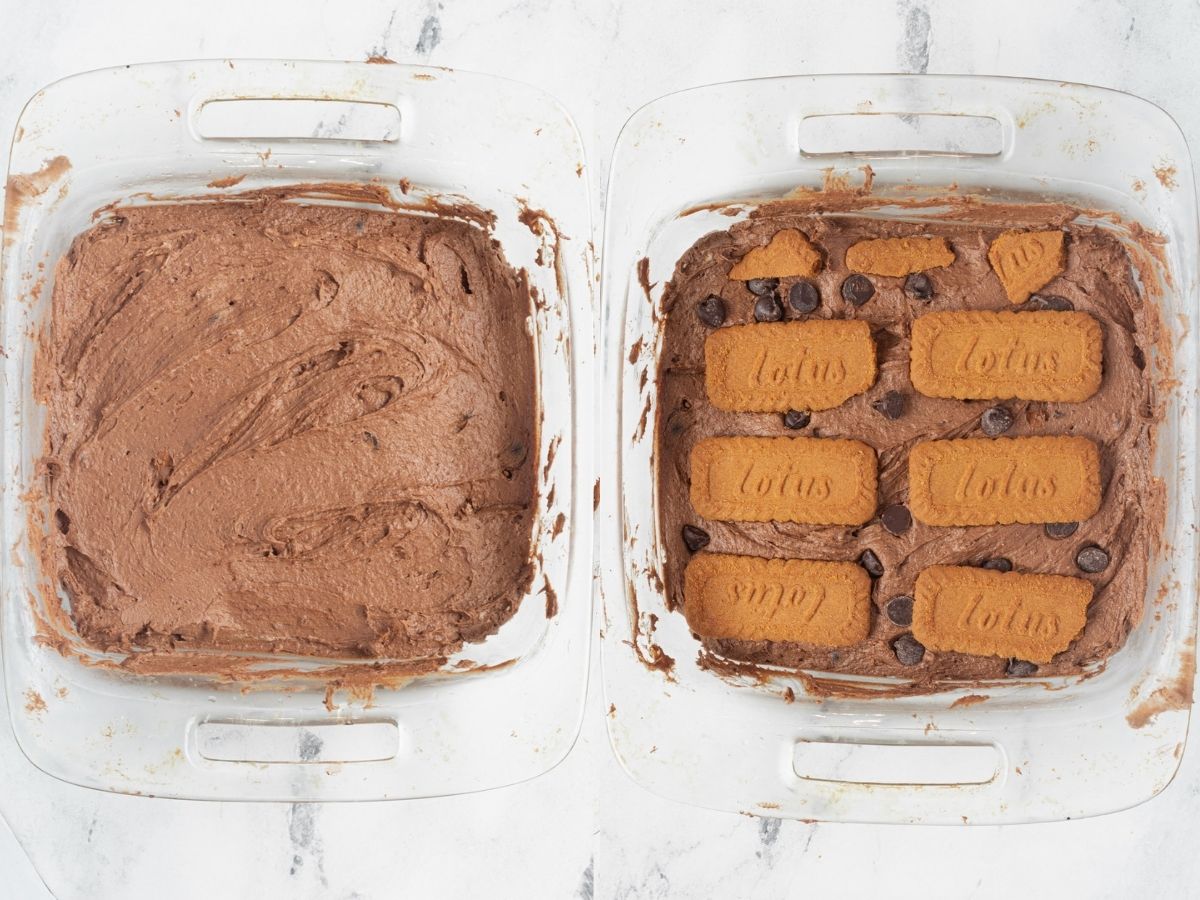 Bake. Bake the vegan biscoff brownies for 40 minutes, or until a toothpick inserted into the center of the brownies comes out clean. Allow the brownies to cool in the baking pan for 15 minutes before slicing.
FAQs
What does biscoff butter taste like?
Biscoff butter is similar to the consistency of peanut butter or nutella, but tastes like the biscoff cookie biscuits. It's sweet, has a caramel like flavor and is lightly spiced. Some people liken biscoff biscuits to the flavor of gingerbread cookies, but with a more mild spice.
How long do vegan brownies last?
These vegan biscoff brownies last for up to 5 days when stored in an airtight container in a cool, dry place. These brownies will melt in hotter climates, so if your house runs warm, you can also store them in the refrigerator to maintain their shape and texture.
Why are my vegan brownies oily?
Most importantly, make sure to use the correct amount of vegan butter. I always recommend using a block of vegan butter, like Miyoko's Creamery when making brownies for the best fudgy results. If you use vegan butter spreads sold in tubs, your brownies may be oily because these spreads typically contain more oil to make them softer.
Are these vegan brownies gluten free?
No, vegan biscoff brownies are not gluten free. Biscoff cookies are made with wheat flour and are therefore not gluten free friendly. If you are looking for gluten free vegan desserts, check out my Decadent Vegan Pumpkin Brownies and Gooey Vegan Protein Brownies.
Expert Tips
Be careful when baking in glass pans. Glass is more sensitive to heat than metal or aluminum pans. If you are using a glass pan, make sure to run it under room temperature water after freezing. This will prevent the glass from shattering from a severe temperature change.
Use an electric mixer or stand mixer. It is too difficult to cream together the butter and sugar without one.
More Vegan Desserts You May Like
Vegan Biscoff Brownies
These Vegan Biscoff Brownies are stuffed with a thick, gooey layer of biscoff cookie butter and topped with chocolate chips and more Lotus biscoff cookies. They're rich, fudgy, and the perfect way to satisfy your chocolate craving. All you need is 11 simple ingredients!
Ingredients
1

cup

biscoff cookie butter

¾

cup

vegan butter

softened

¾

cup

granulated sugar

¼

cup

brown sugar

2

flax eggs

2 tbsp ground flax +5 tbsp water

¼

cup

dark chocolate chips

melted

1

tsp

vanilla extract

¼

cup

plant based milk

¾

cup

all purpose flour

½

cup

cocoa powder

¼

tsp

salt

1

tsp

baking soda

¼

cup

chocolate chips
Instructions
Line a brownie tin or a small casserole dish with parchment paper so the entire bottom is covered and the parchment paper also covers the sides.

Spread the biscoff spread, evenly, on the parchment paper so the entire bottom is covered. You may also crush up 2-3 biscoff cookies and press them into the spread. Place in the freezer for 1 hour.

When the biscoff has approximately 15 minutes left in the freezer, preheat your oven to 350 degrees F.

Prepare the flax egg by combining + mixing 2 tbsps of ground flax with 5 tbsp of water. Let the mixture sit for 10 minutes. It will appear jelly like once it is done.

Using an electric mixer, cream the room temperature vegan butter. This can take up to 2 minutes. You will need to scrap the sides of your bowl often. You will know the butter is creamed once it appears fluffy and airy.

Add in the brown and granulated sugar, mixing again until it is combined with the butter. The mixter will be slightly gritty.

Add in the flax egg, vanilla, melted dark chocolate chips and oat milk then mix again until combined. It will be slightly looser now.

Combine the flour, baking soda, cocoa powder and salt togther in a medium bowl, then combined it into the batter, mixing until combined (approx. 2 minutes). The batter will be fluffy.

Add in half of the non melted chocolate chips and mix until combined.

Remove the biscoff from the freezer. If you are using a glass dish, please see my tips below. Remove the biscoff from the parchment paper. It should peel off very easily due to the oils. If it does not, freeze it longer. If it breaks apart, its ok! You may discard the parchment paper.

Grease brownie dish + spoon half of the brownie batter into the bottom of the brownie dish, spreading it evenly. You may need to use a greased spoon.

Place the layer frozen biscoff on top of the first layer of brownie mix. If the biscoff broke apart, simply do your best to place it together so it is one layer.

Spoon the rest of the brownie batter on top of the frozen biscoff and spread evenly.

Option to sprinkle 2 extra tbsps of chocolate chips on top of the top layer of the brownie batter. Just be sure to press them into the batter,

Place the lotus biscoff cookies directly on top, pressing them into the batter. I used 7 cookies, breaking on in half.

Bake for 40 minutes. Insert a toothpick into the brownies. If it comes out cleanly, remove the brownies and let cool for 15 minutes. If the toothpick did not come out cleanly, bake for another 5-10 minutes, repeating the insertion of the toothpick every 5 minutes.
Notes
Important Tips
Use a block of dairy free butter, such as Mykonos or trader joes brand. Other butter is much softer and usually contain more oil, which could cause the brownie to not bake as well. If you do need to use a tub-based butter, baking times may vary.
Creaming the butter always the brownies to be fluffier. To cream the butter, use an electric mixer. The butter will appear creamer after mixing for a few minutes.
If you have a hard time spreading the biscoff onto the parchment paper for step 2, warm it in the microwave for about 15 seconds. This will help it spread smoothly.
If you are using a glass dish to bake these brownies, after removing the tray from the freezer (the one in which you freeze the biscoff), run it under cool water to warm it up. Do not put a freezing cold, glass dish in a hot oven.
If you have whole seed flax, use a coffee grinder to grind it up.
Substitutions
You may use Bob's Red Mill 1-1 gluten-free flour in place of the all purpose flour.
Cookie butter spread from Trader Joes can be used in place of Biscoff.
You may use any type of plant based milk.
You can use chia egg in place of flax egg.
Storage
Store the brownies in a cool, dry place in an air tight container for up to 5 days. Due to the biscoff, it is easy for the brownies to melt, so be sure to refrigerate the brownies if your house runs warm (they will melt over 80 degrees).
I have not tried to freeze the brownies or batter yet.