These Baked Apple Fries are made with simple ingredients then baked until crispy. Serve these apple pie fries with vegan whipped cream or alone as a quick . All your need is 30 minutes and 7 simple ingredients to make them at home.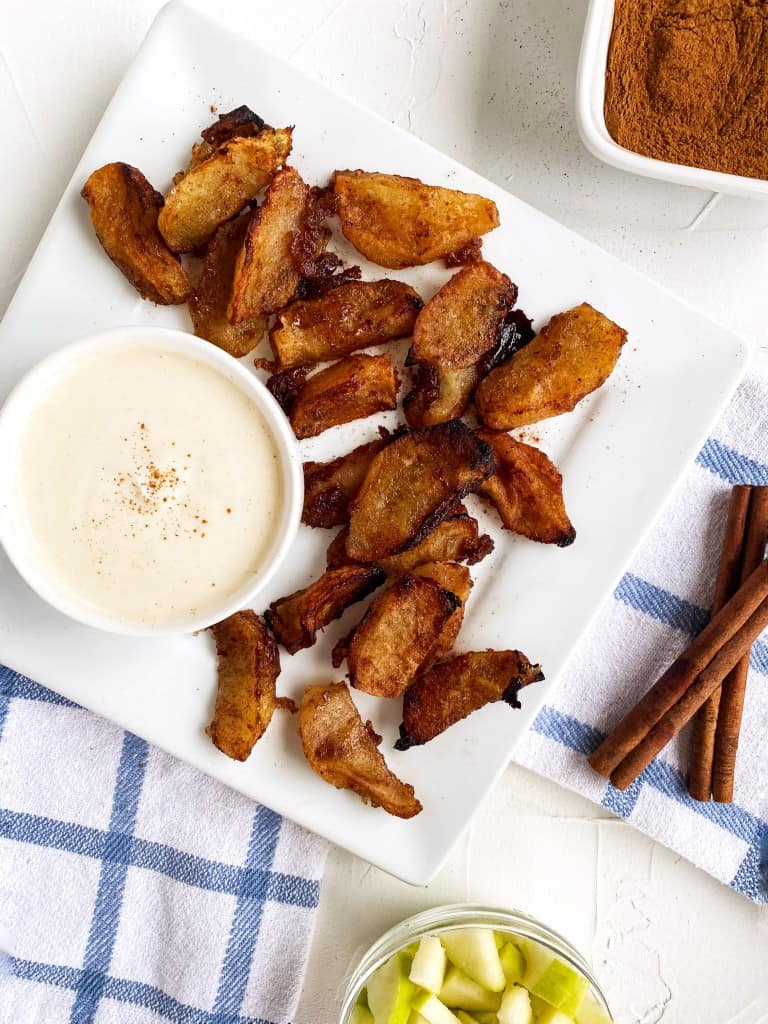 WHY YOU'LL LOVE THIS RECIPE
Easy + Quick!  Making baked apples is simple! All you need it 30 minutes and a few ingredients, likely already in your pantry, to have a healthy delicious snack in no time. Perfect for after work or after school treat.
Easy to double or triple. While this recipe serves 3 people at most, it is simple to double or triple the recipe to make a big batch to be enjoyed by more.
No frying required! While traditional fries require deep frying, these apple fries are a healthier version, using an oven or air fryer.
Air fryer option. Although I enjoy baking these, I am also an avid air fryer lover. You can make these apple fries in the air fryer for convenience.
INGREDIENT NOTES
Apples - My favorite apples to use when making apple pie fries is granny smith apples. They are tart and pair well with the sweetness of the maple syrup. Granny smith apples are also harder and bake well. If you can't find granny smith apples, I also recommend using red delicious. Avoid fuji or gala apple -- they are softer and can break down too much when cooking. Use any leftover apples to make my caramel apple mule.
Maple syrup - Maple syrup compliments the tartness in the granny smith apples and makes the best flavored fries. If you are not strictly vegan, you can substitute with honey. I do not recommend substituting with another sweetener, especially not a granulated sugar. The liquid is necessary for the correct consistency in the batter.
Salt - Salt add a nice balance of flavor between the tart and sweetness of these fries. If you are on a low sodium diet, you can easily omit this ingredients.
STEP BY STEP INSTRUCTIONS
Peel + core your apples. In order to make the smoothest textured apple fries, you want to completely peel your granny smith apples before cutting them into thick slices. You can do this easiest with a y-shaped peeler or if necessary, a simple chef's nice will work as well.
Slice the apples. Slice the apples into thick wedge-like fries. This will ensure they cook well, yet stay soft and full of apple taste on the inside.
Coat with cornstarch. To ensure these fries are crispy, gently place the cut up apples into a bowl and toss them in cornstarch, ensuring each is covered.
Combine all other ingredients. Add the melted butter, maple syrup, warm spices and salt into the bowl and mix until the apples are coated with the sugar mixture. I recommend using a larger spoon to do this.
Bake. Place the apples on parchment paper or a greased sheet and bake for 10 minutes. Flip the apple slices and bake again for 10-15 minutes. This will ensure both sides of the apple fries are crispy.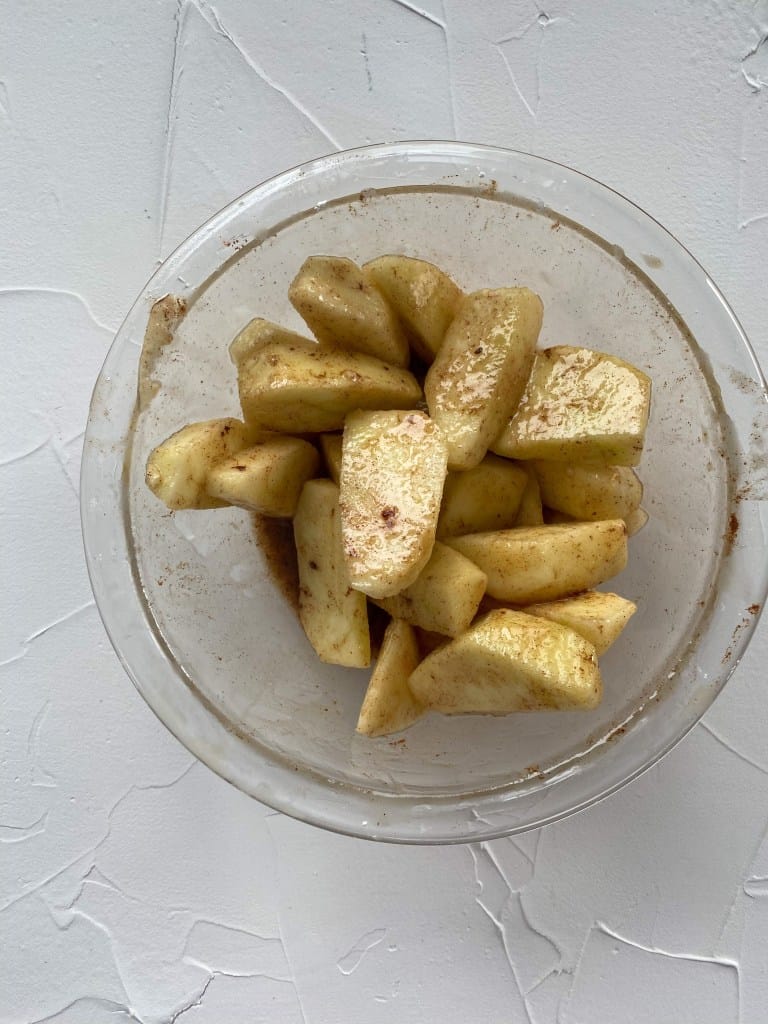 FAQ
Are apple fries healthy?
Depending on your health goals, these apple fries are a great, healthy snack for kids and adults. The are refine sugar free and can be completely plant based if you use coconut oil in place of the butter.
Should I peel the apples first?
Yes. In order to make the smoothest textured apple fries, you want to completely peel your granny smith apples before cutting them into thick slices.
What can I do with the peels?
I try to prevent food waste as much as possible. You can make apple chips with the peels by coating them in the same mixture as the apple pie fries and roasting them. You can also use them in smoothies or garnish a salad with them.
HOW TO EAT THE FRIES
Alone. These baked apple fries are so delicious, you do not need to pair them with anything!
Top with cinnamon sugar Sprinkle cinnamon and sugar on top of the fries to make them taste similar to an apple fritter.
Fruit Dip. Pair the apple fries with my creamy fruit dip for the ultimate harmony between two seasons.
Sweet Sauces. Drizzle maple syrup, glaze or brandy sauce on top of the fries to make them a sweet treat.
Caramel Sauce. Nothing tastes as incredible as apples with caramel. Make this homemade caramel sauce and drizzle it on top of the fries or dunk them in it. While you're add it, add chopped walnuts to make these the ultimate fall treat.
Chocolate Sauce. A simple way to dress up the fries, melt dark chocolate chips with a little bit of coconut oil or vegan butter in the microwave to elevate the fries.
EXPERT TIPS
Use granny smith or red delicious apples. Other apples are far too soft and can result in the texture of the apple becoming softer and limp when baked.
Flip half way through. To ensure these apple fries are crispy on the outside, flip them half way through so both sides can crisp up.
MORE APPLE RECIPES
Healthy Baked Vegan Apple Fries
The perfect recipe if you have too many apples hanging around or if you want a sweet, healthy treat. This recipe is vegan, gluten free and refined sugar free.
Ingredients
2

Granny Smith Apples

1

Tbsp

corn starch

2

tablespoons

vegan butter

melted

2

tablespoons

maple syrup

1

tsp

cinnamon

½

tsp

all spice

Pinch

salt
Instructions
Peel and core your apples. Slice apples the long way, in order to make them "fry like." See pictures for example.

Place apples in a bowl and toss with corn starch. Be sure that the wedges are well coated.

Add in melted butter, maple syrup, cinnamon and salt then mix, ensuring the apple wedges are coated in the sweet mixture. I recommend using a large spoon to do this.

Once apples are well coated in all ingredients, place on a greased baking sheet or air fryer sheet.

Preheat your oven or air fryer to 350 degrees F and bake for 10 minutes. Then, increase heat to 400 degrees F, flip apples and cook for another 12-15, or until your desired crispness.
Notes
If your apples are not crispy, continue to cook slowly until they are your desired crispness.
Nutrition
Calories:
166
kcal
Carbohydrates:
29
g
Protein:
1
g
Fat:
6
g
Saturated Fat:
2
g
Trans Fat:
1
g
Sodium:
63
mg
Potassium:
169
mg
Fiber:
3
g
Sugar:
21
g
Vitamin A:
426
IU
Vitamin C:
6
mg
Calcium:
31
mg
Iron:
1
mg