This creamy Tahini Caesar Dressing is made in under 5 minutes with 5 simple ingredients. It's naturally egg-free, dairy-free, vegan. Perfect for your favorite salads, veggies, and Sunday meal prep!
Why You'll Love This Recipe
Made with just 5 ingredients. Making your own salad dressings at home does not need to be time consuming or complicated. This caesar is ready in just 5 minutes with just 5 ingredients. No blenders, food processor, or fancy ingredients necessary! If you love easy, flavorful dressings, you'll love these recipes: pomegranate tahini, miso tahini dressing, and orange tahini dressing.
Perfect for meal prep. Whether you work from home or take a lunch to work every day, it can be helpful to prep a few dressings and sauces at the beginning of the week to quickly add a flavor boost to salads or roasted veggies.
Naturally oil-free. If you're trying to avoid refined oils, you'll love this vegan caesar dressing. It's naturally creamy and drippy thanks to nutty tahini and no olive oil is required!
Ingredients and Substitutions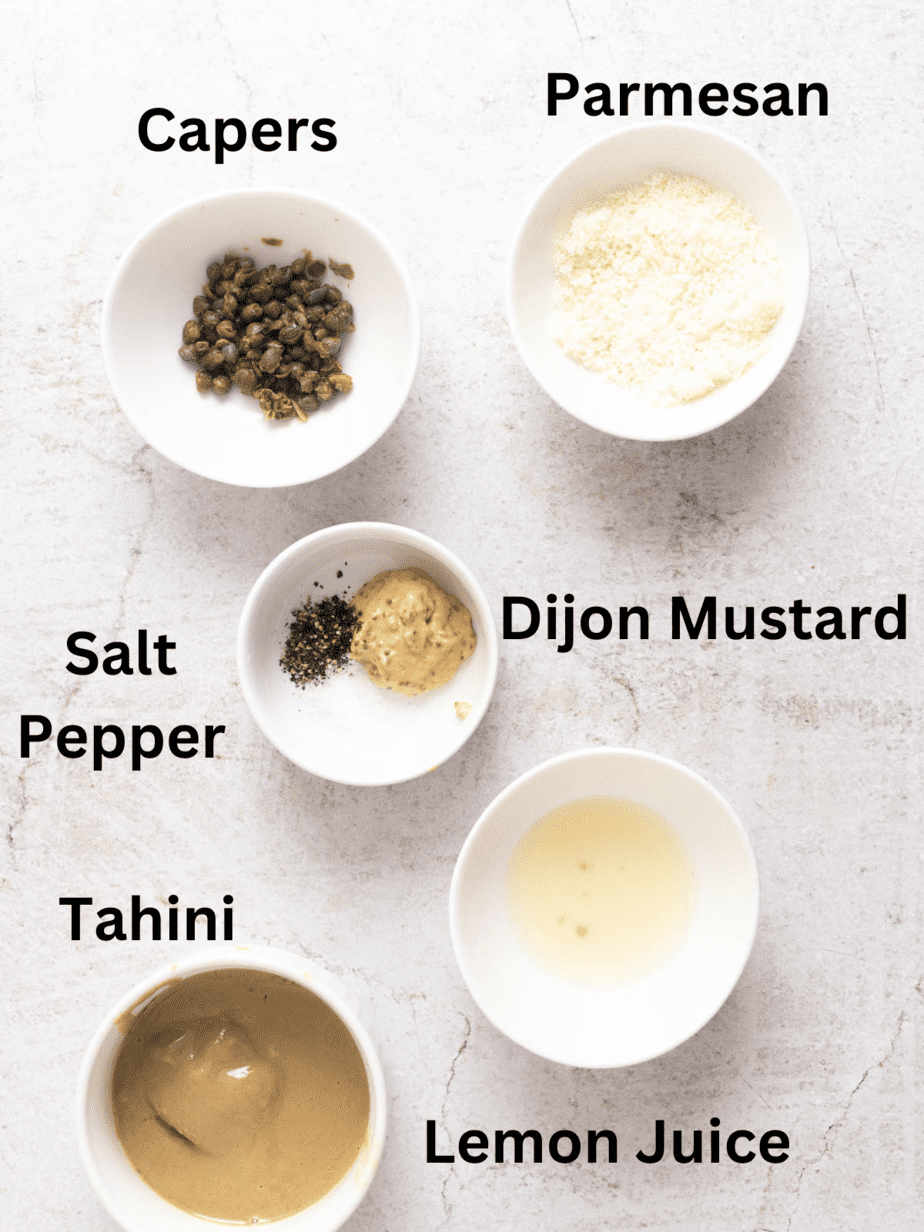 Tahini - Tahini is a middle eastern condiment that is most notably used in hummus recipes, but is also used in baba ganoush and other dips and dressings in Middle Eastern cuisine, In this recipe, it's used to replace the creaminess in traditional caesar dressing and acts as the creamy egg yolks as well as the olive oil. Some of my favorite brands are Once Again Nut Better, Soom + Trader Joe's brand.
Dijon mustard - Mustard is a common ingredient in classic caesar, adding tanginess and brightness to the creamy dressing. If you are vegan, be careful to use a vegan dijon mustard brand. Not all mustards are made with vegan-friendly processing.
Parmesan - Both dairy parmesan cheese and non-dairy parmesan cheese work well here, so use the one that suits your own diet best. I personally opted for vegan parmesan cheese.
Capers - You'll need both capers and caper brine. The flavor mimics the flavors anchovies add to the dressing, yet are completely vegetarian!
Lemon juice - Similar to the dijon, lemon juice adds acidity that helps brighten the dressing and balance the flavors. I highly recommend fresh lemon juice over pre-bottled. Bottled versions are typically very watered down and won't work well here.
Step by Step Instructions
Prep the capers. Using a sharp knife, finely dice the capers.
Whisk ingredients together. In a medium sized mixing bowl, whisk together the tahini, dijon mustard, parmesan, capers, caper brine, lemon juice and whisk to combine. Season with salt and pepper, then add up to ¼ cup of water to thin the dressing out to your desired consistency.
Serve. Drizzle on your favorite homemade caesar salad with romaine lettuce, croutons, and additional shredded parmesan cheese. Or, make a kale salad or drizzle on roasted veggies such as carrots, Brussels sprouts, and asparagus.
Storage Instructions
This homemade tahini caesar dressing will keep for up to 5 days when stored in an airtight container. Once refrigerated, the dressing will thicken slightly, so allow it to sit at room temperature for about 10 minutes before whisking again and using as desired.
Time Saving Hacks
This dressing can be fully prepped a few days in advance. As written, this dressing makes 4 servings, so if you are making this for your family, feel free to double or triple the recipe as needed to last you up to 5 days.
Recipe FAQs
Does all caesar dressing have anchovy paste?
Most traditional caesar dressings are made with anchovy paste and often eggs, making the classic salad dressing neither vegan, nor vegetarian. This homemade version, however, is completely vegan friendly and instead gets it's rich creaminess from tahini and tanginess from capers.
Does tahini taste like mayo?
No, tahini does not taste like mayo. Tahini is made from hulled sesame seeds, and while it is similar to mayo in that it is creamy, it is more nutty in flavor. Some even classify tahini as bitter tasting, but this can be avoided with a high-quality runny tahini.
I can't find tahini. What can I use instead?
Tahini is a key ingredient in this salad dressing. If you can't find tahini in stores (typically in the nut butter aisle), I'd recommend ordering one online or making your own tahini at home. All you need is hulled sesame seeds and a neutral tasting oil.
Tips for Success
Use a good tahini. It is important to stress that the flavor of your dressing will be wildly influenced by the quality and consistency of your tahini. If your tahini is very thick and cannot be poured, it will not work for a salad dressing.
Don't add too much water. If you add more than ¼ cup of water to the dressing, you risk diluting it and making it bland tasting. For best results, use a drippy tahini. This will make the dressing smooth and pourable without the need for water.
More Homemade Salad Dressings You'll Love
5 minute Tahini Caesar Dressing
This creamy Tahini Caesar Dressing is made in under 5 minutes with 5 simple ingredients. It's naturally egg-free, dairy-free, vegan. Perfect for your favorite salads, veggies, and Sunday meal prep!
Ingredients
½

cup

drippy tahini

must be drippy!

1

tbsp

Dijon mustard

2

tbsp

parmesan

vegan, grated

1

tsp

capers

diced

1

tsp

caper brine

1

tbsp

lemon juice

fresh

¼

cup

water

optional depending on desired thickness

Pinch of salt + pepper
Instructions
Chop the capers into small pieces.

Add all ingredients (other than the water) into a medium sized mixing bowl and whisk.

If you desire more of a thin dressing, add in the ¼ cup of water and mix again.

Serve with your favorite salad or dip your fav veggies!
Notes
Tahini: Using drippy tahini for this dressing. Some of my favorites are: Once Again Nut Butter, Soom + Trader Joes. 
Thicker tahinis will result in a thicker, hummus like dressing, and adding more water to thin it out will cause it to lose flavor.
Tahini is usually in the peanut butter aisle or the international aisle. 
Storage:
This dressing stores well in an air tight container in the refrigerator for up to 5 days. If you notice it separates at all, mix it again before serving. If you notice it is too thick, let is sit for 10 minutes before mixing.
Nutrition
Calories:
191
kcal
Carbohydrates:
7
g
Protein:
6
g
Fat:
17
g
Saturated Fat:
3
g
Cholesterol:
2
mg
Sodium:
106
mg
Potassium:
150
mg
Fiber:
2
g
Sugar:
1
g
Vitamin A:
43
IU
Vitamin C:
3
mg
Calcium:
75
mg
Iron:
1
mg