This Miso Tahini Dressing is both salty and sweet, and whisked together until creamy and delicious! It's the perfect sauce or dressing for salads, fries, roasted vegetables, and any recipe that need a boost of flavor. No lemon juice or olive oil required!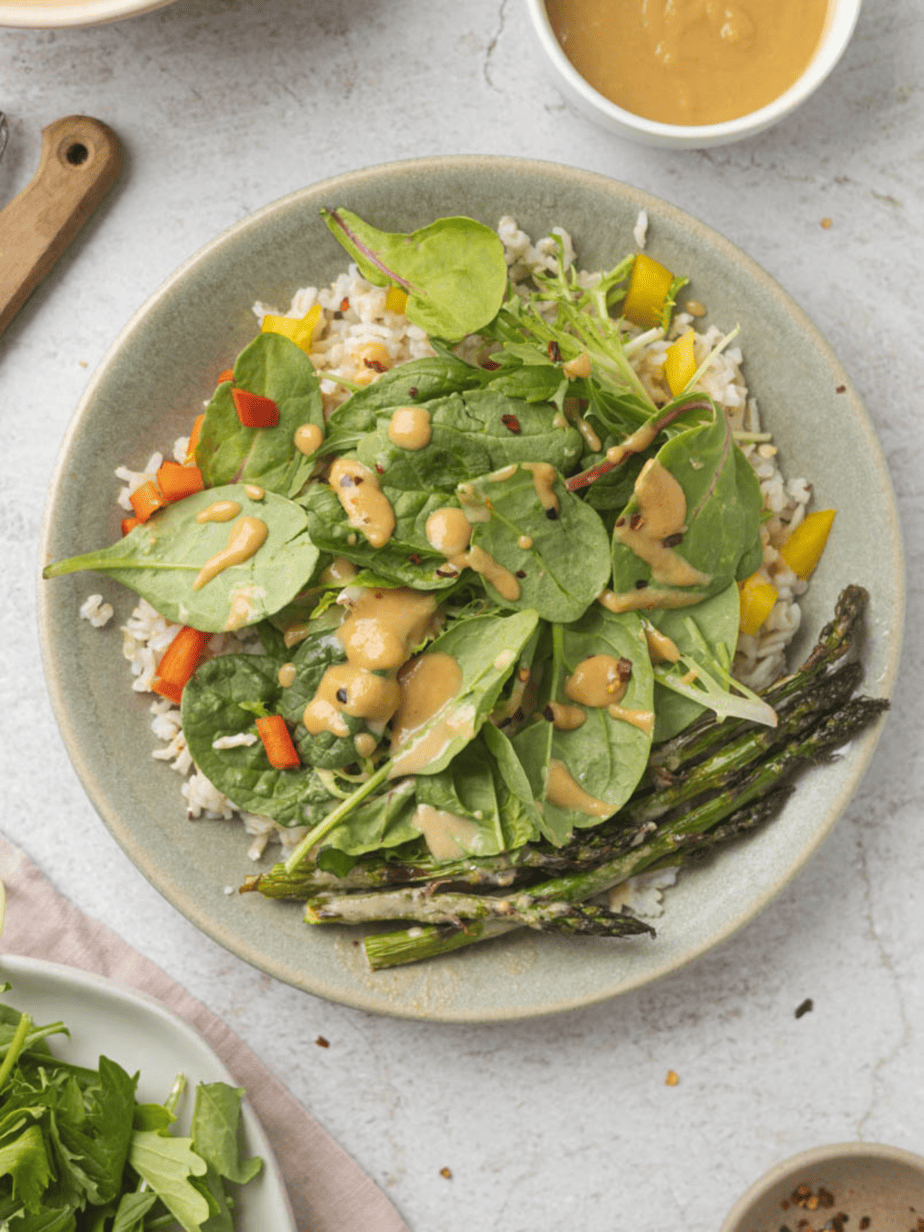 When I have the opportunity, I always try making my own salad dressings from scratch. They're not only healthier, but easier to adjust to taste. Tahini is one of my favorite ways to add a rich creaminess to a salad dressing, without the need for a ton of olive oil.
If you haven't already, make sure to check out my other popular tahini-based dressings: Orange Ginger Tahini Dressing, Sweet Pomegranate Tahini Dressing, or Tahini Caesar Dressing.
Why You'll Love This Recipe
Contains beneficial gut bacteria. Adding miso paste to your cooking and salad dressings can allow you to enjoy its many health benefits. Miso is a fermented food and contains beneficial gut bacteria and probiotics. This can improve digestive health and allows your body to absorb nutrients more successfully.
Ready in 5 minutes or less. Making a homemade salad dressing doesn't have to be hard or time consuming. This dressing requires no blenders, food processors, or significant prep work. In just 5 minutes, you can have a dressing ready for your weekly meal prep!
It's oil-free. ​If you're looking to reduce the amount of refined oils in your diet, this whole food plant based creamy dressing is the perfect thing! The only fats in this delicious miso tahini come from ground sesame.
Made with a handful of ingredients. ​If you've made any of my salad dressings or lunch recipes, you know I like to keep things as simple as possible. All you need is a small or medium bowl and 5 ingredients.
Ingredients and Substitutions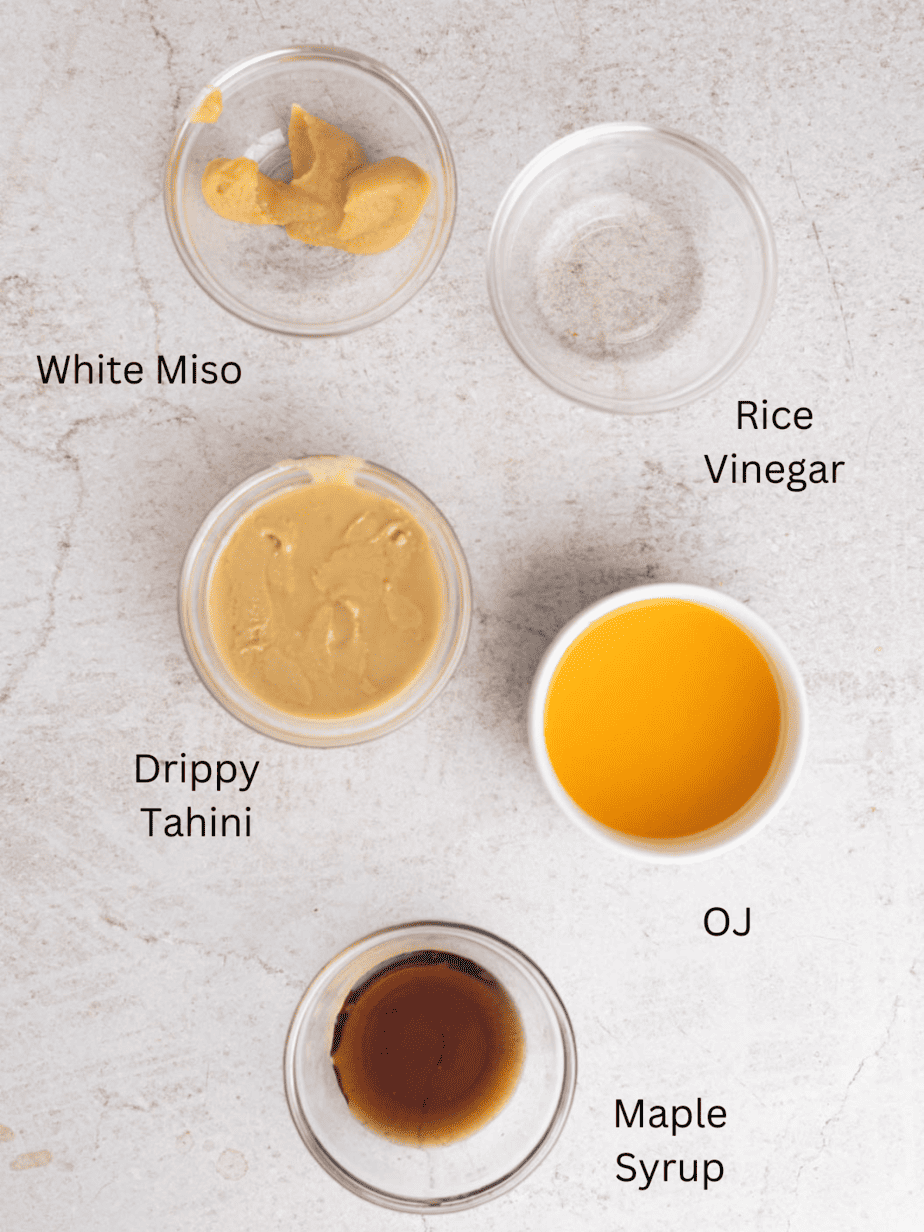 White miso paste - Also called "shiro miso," white miso paste is the more mild of the miso paste varieties and has a subtle sweetness, rich umami flavor, and a complex saltiness thanks to the fermentation process. Miso paste is typically found in the refrigerated section of grocery stores near the health food or refrigerated condiments.
Tahini - If you've made one of my other homemade tahini salad dressings and sauces, you'll know the type of tahini can greatly change the flavor and texture of your dressing. For the best dressings, I recommend purchasing tahini made from hulled sesame seeds. It's lighter in color, more mild in taste, and easy to find in most grocery stores near the other nut butters like almond butter or peanut butter, or in the International aisle.
Orange juice - I highly recommend using freshly squeezed orange juice over store-bought. It's sweeter, more flavorful, and has a brighter more authentic citrus flavor. If you are in a pinch, store-bought will work, but make sure to purchase an orange juice with no added sugar. These varieties will taste too artificially sweet in your dressing.
Vinegar - I've used both rice vinegar or apple cider vinegar in this dressing and both work really well to add a mild acidity and brightness. If you have both on hand and are wondering which one to use, it depends on your personal preference. Apple cider vinegar is a stronger tasting acid whereas rice vinegar is more mild and suitable for more delicate dishes. Similarly, rice vinegar is great if you're using it to pair with Japanese or Asian cuisines. Apple cider vinegar is more neutral and better suited for say a kale salad or dipping baked sweet potatoes.
Maple syrup - A bit of added sweetness is necessary to balance the savory, creamy, acidic flavors. I typically use 1 tablespoon of maple syrup, but feel free to adjust the amount to taste. You can also use another liquid sweetener, such as honey or agave as needed or preferred.
Step by Step Instructions
Place ingredients in a bowl. Add all of the white miso paste, tahini, fresh orange juice, rice vinegar, maple syrup and red pepper flakes, if using into a small bowl.
Whisk to combine. Once smooth, drizzle it on salads, use it as a dipping sauce, or marinade your favorite plant-based protein in it!
Storing and Reheating Instructions
Once made, this easy miso tahini dressing will store well in the fridge for up to 4 days in an airtight container. Once refrigerated, it will become a bit thicker. To loosen it up, allow the dressing to come to room temperature or add about ½ tablespoon to loosen it up.
Time Saving Hacks
Prepping salad dressings in advance is one of my favorite time saving hacks to make the work week as easy as possible. If you love having salads or healthy grain bowls for lunch, prep this tahini miso dressing on Sunday night, store it in a glass jar such as a mason jar, and have it ready to go all week long.
​Note that this recipe makes roughly 4 servings. If you're meal prepping this salad for multiple people, feel free to double or triple the recipe as needed.
FAQs
What is the difference between miso and tahini?
Originating from two different cultures. Miso is a traditional Japanese paste that is made primarily from fermented soybeans, salt, and koji. It has a distinct, salty umami flavor and is typically used to add a savory flavor to meals like soups and dressings. 


Tahini on the other hand is a staple ingredient in Mediterranean and Middle Eastern cuisine made from ground sesame seeds. It's smooth and nutty, similar in texture to drippy peanut butter. It's often used as salad dressings or creamy ingredient in recipes like Simple Hummus or Tahini Caesar Dressing. 
What does tahini taste like?
 If you've never enjoyed tahini before, it's flavor is often described as nutty, earthy, and slightly bitter. It is a pronounced flavor that may require adjusting to, but if you purchase a high quality, creamy tahini from brands like Once Again, Soom + Trader Joes, it should be much more creamy and neutral tasting than bitter. Some even find the taste to be slightly sweet. 
Tips for Success
Adjust the thickness to taste. This dressing is quite smooth and fluid, but if you prefer a drippier salad dressing, add up to 2 tablespoons of water to create a thinner consistency. Be careful not to add too much water as this will dilute the flavor and make your healthy dressing bland.
Use a DRIPPY tahini. ​Whenever I make dressings using tahini, I always use a tahini that is runny enough to be poured into the mixing bowl. If your tahini is really thick and you can't pour it easily, your dressing is going to be on the dry side. Add additional liquid to make it the right consistency.
Related Recipes
If you make this recipe, I would absolutely love for you to leave a rating and review. I absolutely love connecting with you!
5 Ingredient Miso Tahini Dressing (no lemon juice, no oil)
This Miso Tahini Dressing is both salty and sweet, and whisked together until creamy and delicious! It's the perfect sauce or dressing for salads, fries, roasted vegetables, and any recipe that need a boost of flavor.
Ingredients
1 heaping

tbsp

white miso paste

¼

cup

tahini

make sure its drippy

¼

cup

orange juice

¼

tsp

rice vinegar

or apple cider vinegar

1

tbsp

maple syrup

Red Pepper Flakes

optional
Instructions
Add all of the ingredients into a medium size bowl and whisk until smooth.*

Drizzle onto salads, dunk veggies in it or use it as a marinade!

Store in an air tight container in the fridge if you do not consume it all.
Notes
*

If you prefer a drippier salad dressing, add in 1-2 tbsp of water and whisk again
This dressing will store well in the fridge for up to 4 days. Whisk or mix before using. It will thicken up in the fridge, so allow it to come to room temperature before using or add a little bit (½ tbsp) of water to it to loosen it up. 
For best results, use OJ from freshly juiced oranges. If you are in a pinch, store bought will work as well - just make sure there is no added sugar.
For best results, use DRIPPY tahini! If you do not have it available, it is likely you will need to add a little bit of water to the dressing.
Tahini can be found near the peanut butter or in the international section of the grocery store.