Butternut Squash Black Bean Tacos have to be one of my top 3 favorite tacos! I absolutely love butternut squash for its sweet, yet hardy, flavor and I love black beans for their savory flavor. The combination of the two makes these Butternut Squash Black Bean Tacos absolutely perfect.
Butternut Squash Black Bean Taco Inspo
I absolutely love all things fall, and butternut squash is probably my favorite fall flavor. Don't tell pumpkin spice or apple. I also love Mexican food. It is my go to for home cooked meals and restaurants. Mexican food is one of the most vegetarian friendly cuisines that both Gabe and I enjoy.
About a year and a half ago, I went to Austin, Texas for the first time in my life. I went as a coach for a law school competition where my team made it to nationals! We had a great time during the competition, met some awesome people and got some free time to do what we wanted. One of the girls from UCLA told us about an amazing Mexican place we NEEDED to try! I was sold the moment she said Mexican. I knew Texas had much better Mexican food than up here in CT.
So we embarked on what felt like a 2 mile walk through a somewhat dodgey area in the city to finally come to a beautiful mexican restaurant. This was before I went vegan, so we got the spinach dip, and we also got the guac (vegan). For an entree I got an amazing fajita dish that came with…. you guessed it - black beans and butternut squash. After that, I knew I needed to pair the two more often in my life.
I came home and quickly started making more black bean and butternut squash meals. Quesadillas, burritos and tacos of course. I honestly eat these all year round because they are good!
Making the Butternut Squash Black Bean Tacos
This recipe is extremely easy to make! You will cook the butternut squash, then place it in a skillet with the black beans, spices and other veggies. Heat everything up, and you are done.
Eating the Tacos
I paired mine with soft small taco shells. You can use whatever taco shell, wrap or even tortilla chips to pair this with.
Did you make this recipe?
I am so happy you did! Please place a review below and tag me on social media. This encourages me for the future!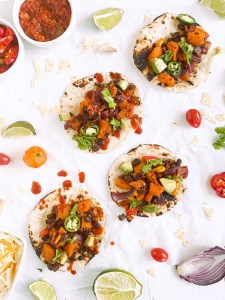 Butternut Squash Black Bean Tacos
These butternut squash black bean tacos are the perfect way to bring your tacos into the fall seasons! Sweet, yet savory, they are perfect for a taco Tuesday (or just any day!)
Ingredients
1 ¼

cups

cooked butternut squash

cut into bite size chunks

¾

cup

black beans

¼

red onion

chopped

½

cup

red pepper

yellow and orange pepper, diced

2

garlic cloves

minched

4

cherry tomatoes

cut into fourths (or ½ regular tomoto, diced)

2

tbsp

chopped cilantro

1

tsp

chili powder

¼

tsp

cumin

Pinch

salt

Hot peppers

optional
Instructions
Cook the butternut squash. I cut mine in half, remove seeds, drizzle with olive oil and cook for 25-40 minutes at 425 degrees F (or until I can pierce it with a fork).Let cool, then cut into bite size chunks, with skin removed. You will have extra squash – place it in the fridge in a container.

Over medium high heat, drizzle olive oil in a medium size pan. Once the oil has warmed, add in garlic.

Once the garlic is aromatic (approx 1-2 minutes), add in peppers and onions, and cook for 3-4 minutes until they become tender stirring often.

Once tender, add in black beans, butternut squash and tomatoes. Cook for another 5 minutes, stirring often.

Take off heat and add in spices.

Place in mixture into taco shells, add in hot peppers (optionals) and top with cilantro! Enjoy!
Nutrition
Sodium:
55
mg
Calcium:
161
mg
Vitamin C:
152
mg
Vitamin A:
21930
IU
Sugar:
10
g
Fiber:
18
g
Potassium:
1496
mg
Calories:
312
kcal
Saturated Fat:
1
g
Fat:
2
g
Protein:
16
g
Carbohydrates:
64
g
Iron:
6
mg