Delicious and undetectable dairy free and vegan dips for any occasion. Whether it is a picnic, holiday, or football season, you will find the perfect dip for you. From sweet dessert dips that you can pair with cookies or fruit to hot and cold savory dips that you can dunk your veggies and chips in, all of these dips are meat free, dairy free and are packed with flavor.
Looking for an exciting new dip this season? Try one of these Best Dairy Free Dip recipes for a crave-worthy, satisfying treat.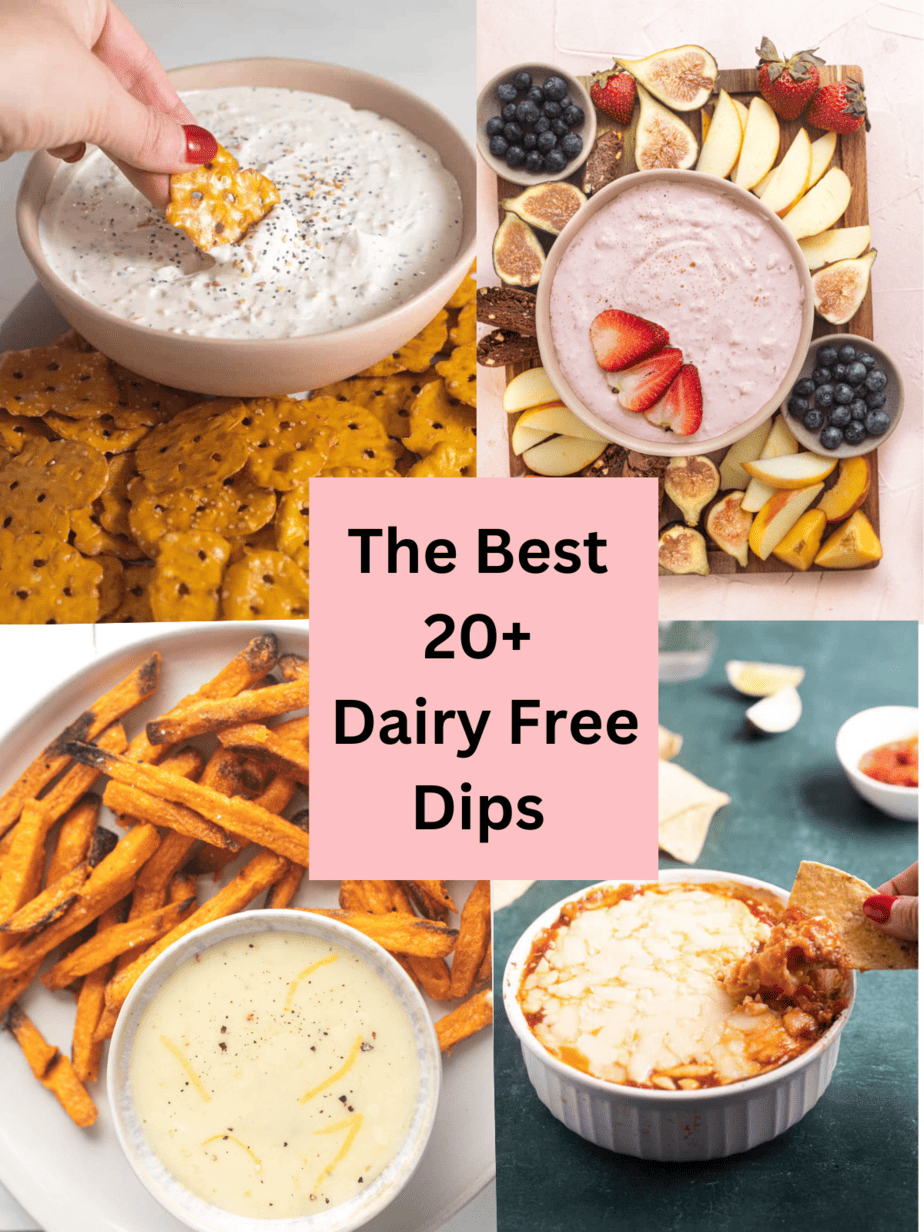 Here is my all-inclusive list of the best 20+ dairy free dip recipes I could find on the internet. Each dip is absolutely delicious, is simple to make and uses easy to find, normal ingredients.
Whether you are craving a dip for football season, the holidays, or a picnic, this list has a dip for you.
So, lets grab our chips and dig in.
DAIRY FREE DIP TIPS
Dairy free dips can taste just as good as regular dairy dips if you chose the right ingredients. Most dairy free dips use vegan or plant based alternatives to common dairy products. Finding the right dairy free product is key to make your dips texture, taste and melt be similar of those with dairy.
Dairy Free Cheese. Dairy free cheeses can be tricky because some do not melt as well as others. If you have a favorite that you love the texture and taste of, use it in these dips. If you do not know the best to pick, the following are my personal favorites that melt well and taste very close to dairy cheese: Violife Cheddar; Field Roast Chao Slices; and Follow Your Heart Cheddar.
Dairy Free Cream Cheese. Luckily, there are many options on the market for dairy free cream cheese that comes very close in texture and flavor to regular dairy cream cheese. One of the biggest complaints about dairy free cream cheese is the sour taste or the texture can be a little grainy, so if you have a go-to dairy free cream cheese use that. Some of my personal favorites I like using are: Trader Joe's Vegan Cream Cheese; Tofutti; and Miyoko. I have heard great things about Philadelphia plant based cream cheese too, but have yet to try it. Be careful to avoid any flavored cream cheeses or cream cheeses that add vanilla to them or it will change the flavor of the dip.
Dairy Free Sour Cream. Like cream cheese, dairy free sour cream has come a long way, with many options in the grocery store that taste and feel like the real deal. My favorite dairy free sour creams are: Better than Sour Cream by Tofutti; Forager; and Violife. I have heard Kite Hill is on the sweeter side, so I have not tried it in dips and recommend avoiding any sweeter flavored sour cream.
Dairy free products can be tricky to find in the grocery store, as I have found every store places them somewhere different and sometimes it can be somewhat hidden if you do not know where to look. If there is not a vegan or natural foods specific area in the grocery store that has refrigerated items, the dairy free products will likely be in the produce section or mixed with the regular dairy products. If you cannot find it, ask an employee for help.
Best Dairy Free Dip Recipes
Cold Dips (1-9) / Hot Dips (10-17) / Dessert Dips (18-22)
Cold Dips
1. Vegan Honey Mustard
This vegan Honey Mustard Dip is perfect for any occasion. It may be the OG of all dairy free dips and sauces. Whether you want to dunk french fries into it or top your (vegan) burger with it, it will not disappoint.
Grab this Honey Mustard Dip recipe here.
2. Lemon Dill Hummus
Tangy and full of flavor, this lemon dill hummus takes under ten minutes to make, is full of mouth watering flavor and is the perfect dip for the summer.
Grab the recipe for this lemon hummus here.
3. Buffalo White Bean Dip
This Buffalo White Bean Dip is full of flavor and packed with protein. Made in less than 5 minutes, this dip is wonderful for picnics or game day.
Grab the Dip Recipe here.
4. Peach Jalapeno Salsa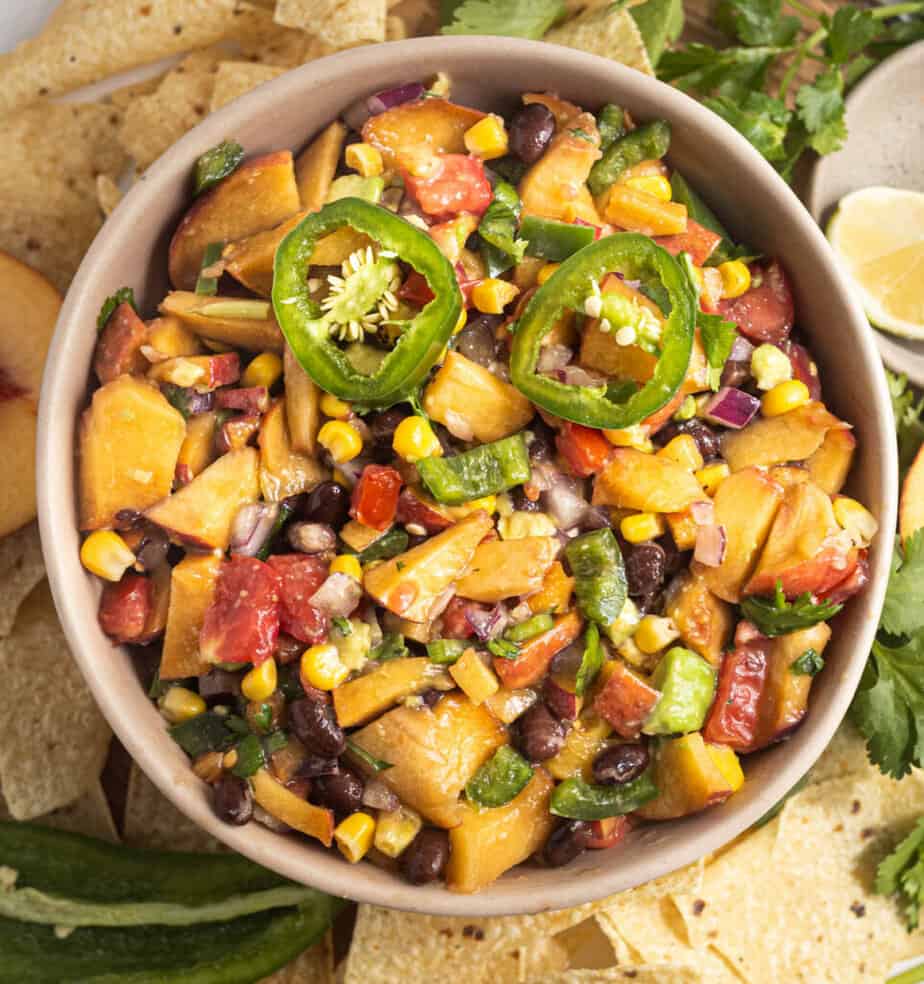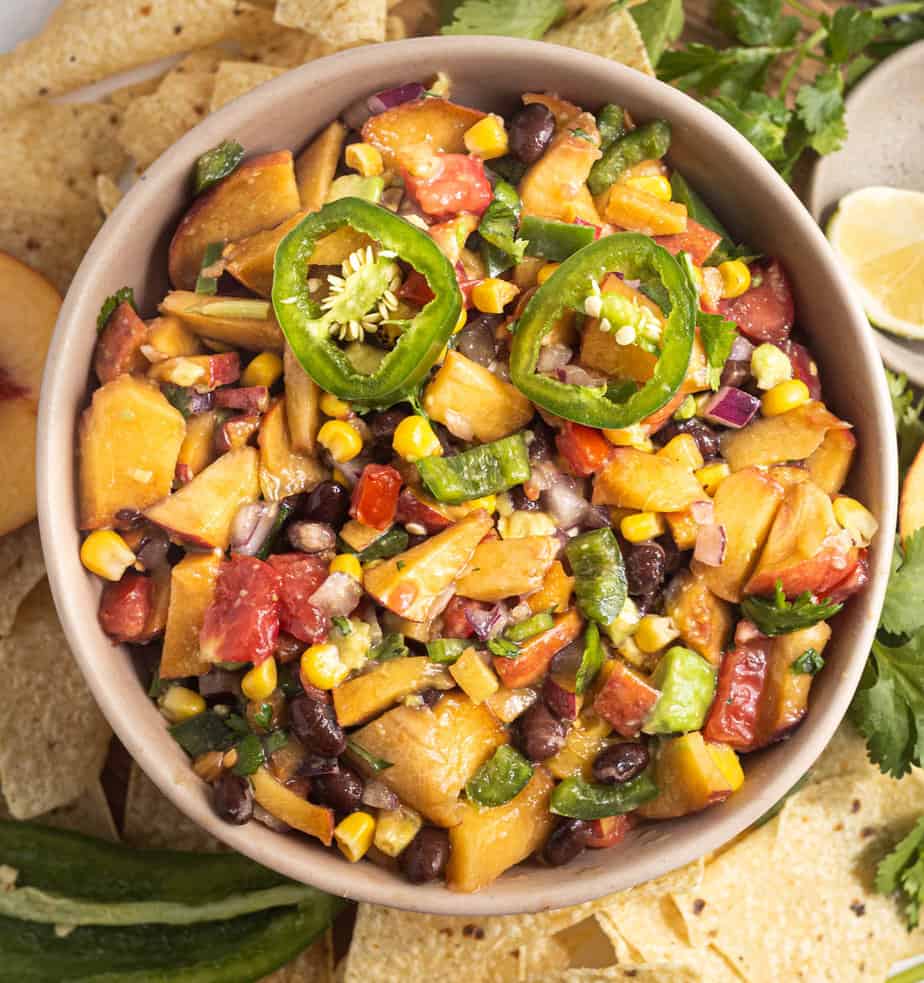 Craving sweet and savory at the same time? This Peach Jalapeno Salsa is what you need in your life. This salsa screams summer, so grab your tortillas and get to scoopin'.
Grab the Peach Jalapeno Salsa recipe here.
5. Creamy Avocado Dip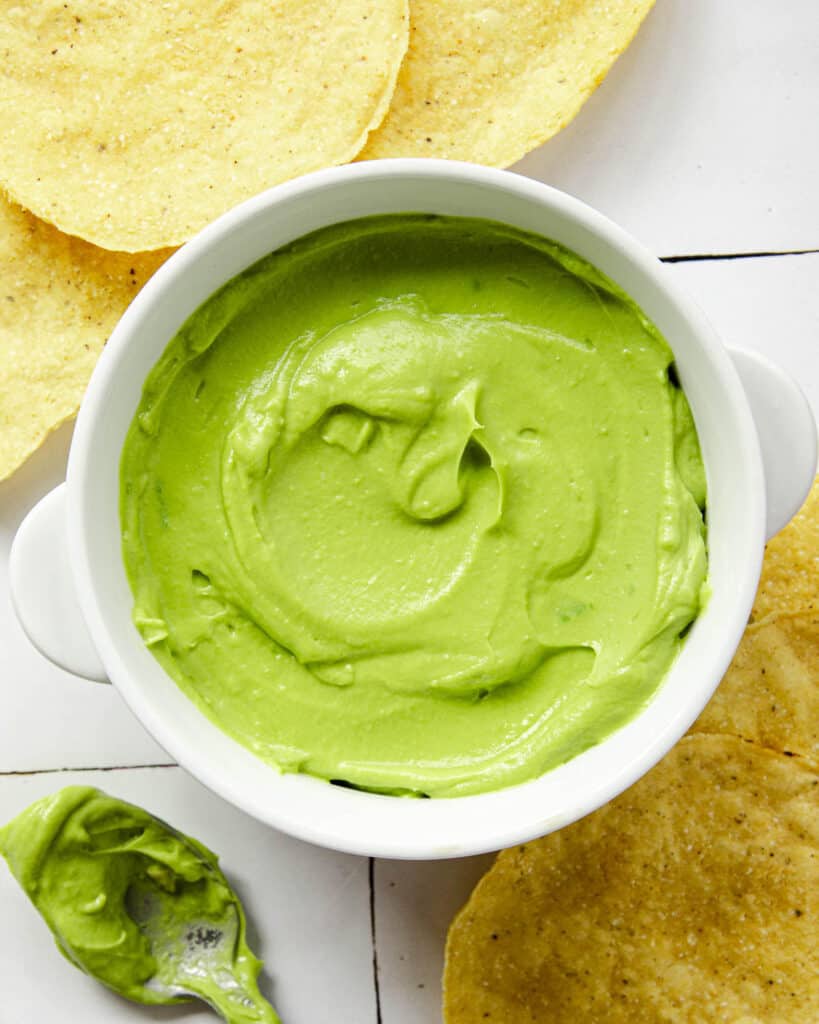 No, this is not another guac recipe. This is so much more. Creamy Avocado Dip is made with simple ingredients and is quick to make! Dip just about anything into it.
Find the recipe for this avocado dip here.
6. Carrot Dip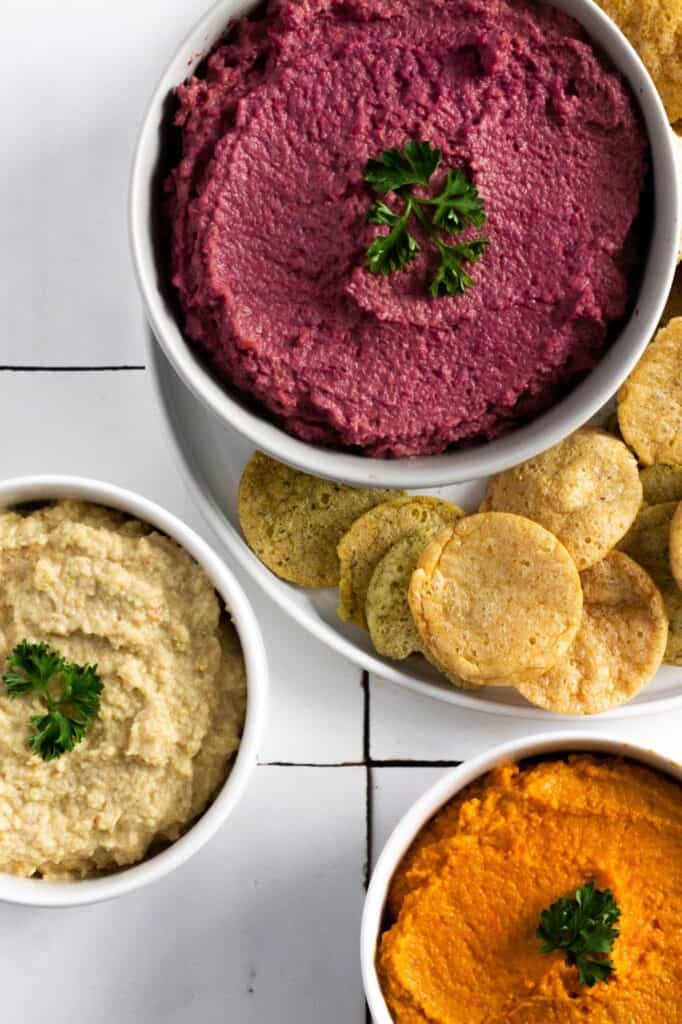 Looking for a fun twist on a classic recipe? Look no further. This Carrot Hummus is a unique and drool-worthy dip that is a great week-day healthy snack.
Grab this carrot hummus recipe here.
7. Garlic Aioli
If you love an easy recipe, this 5 minute garlic aioli is perfect for you. Made with four simple ingredients and a little seasoning, this dip is wonderful for any occasion.
8. Garlic without Hummus
Craving hummus, but garlic intolerant? Don't fret! This no garlic hummus is full of flavors and tastes just like regular hummus!
Find the recipe for this no garlic hummus here.
9. Everything But the Bagel Dip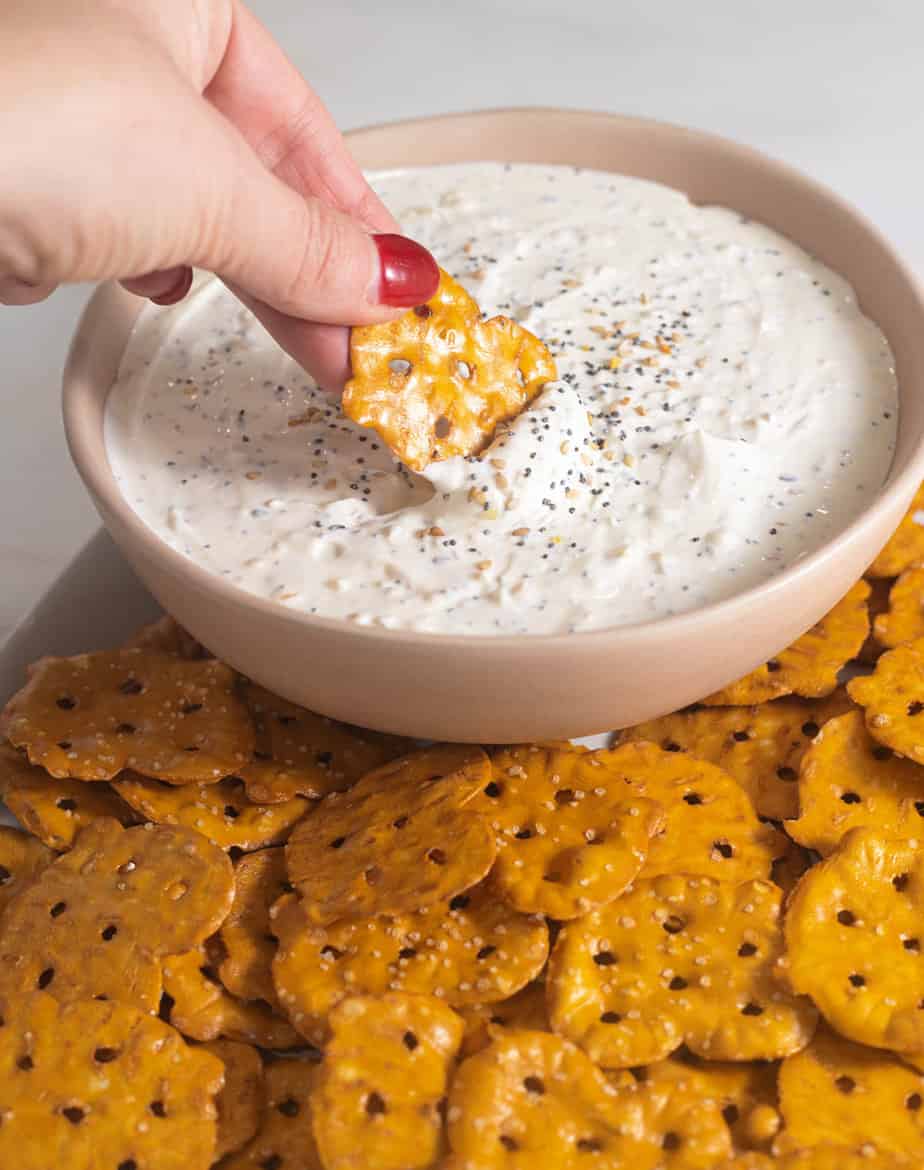 The famous Everything But the Bagel seasoning, but in a dip! Need we say more? The best part - this Everything But the Bagel Dip takes less than 5 minutes to make.
Grab the recipe for this Everything But the Bagel Dip here.
Hot Dips
10. Buffalo Cauliflower Dip
Bite into a deliciously cheesy buffalo cauliflower dip that is bursting with spicy flavor. A play of the regular buffalo chicken dip, this dip is perfect for any time of the year.
Click here for the buffalo dip recipe.
11. Jalapeno Popper Dip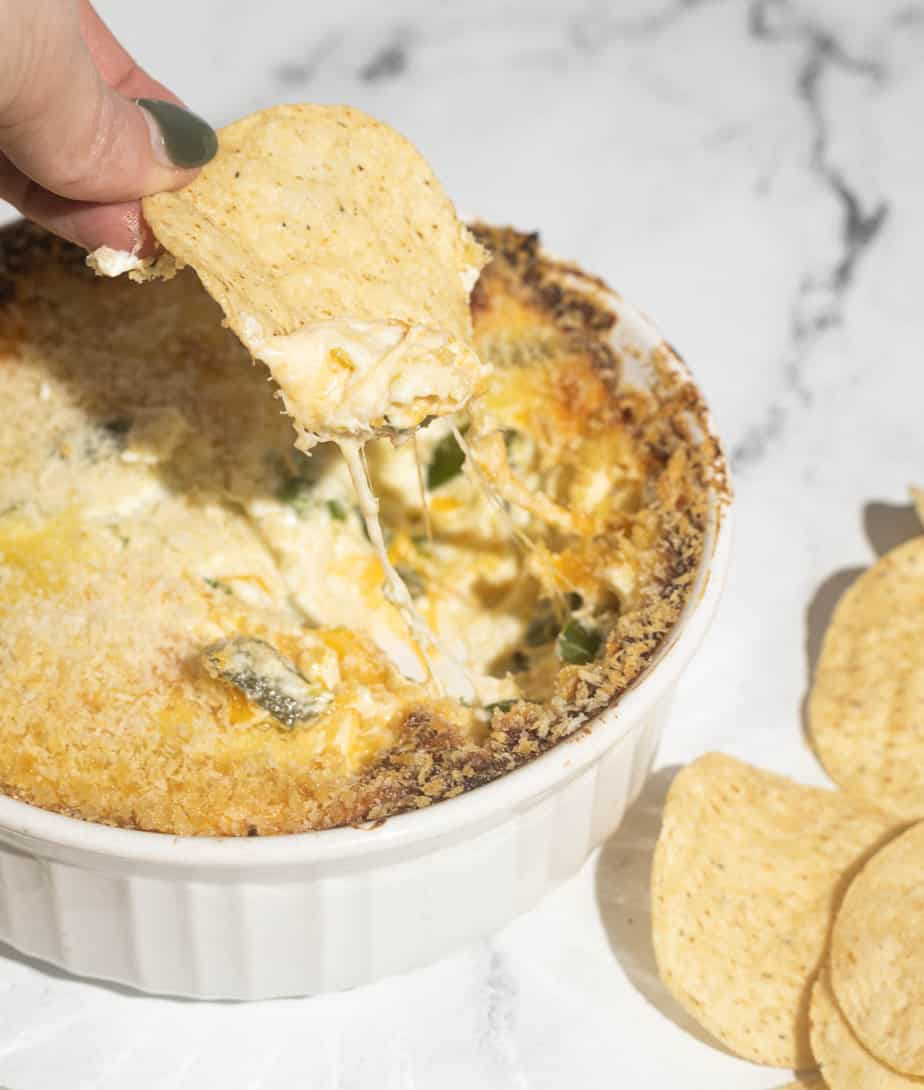 A spicy and cheesy delight, this Jalapeno Popper Dip is quick to make and uses simple ingredients from the local grocery market.
Grab the recipe for this jalapeno dip here.
12. Four Layer Dip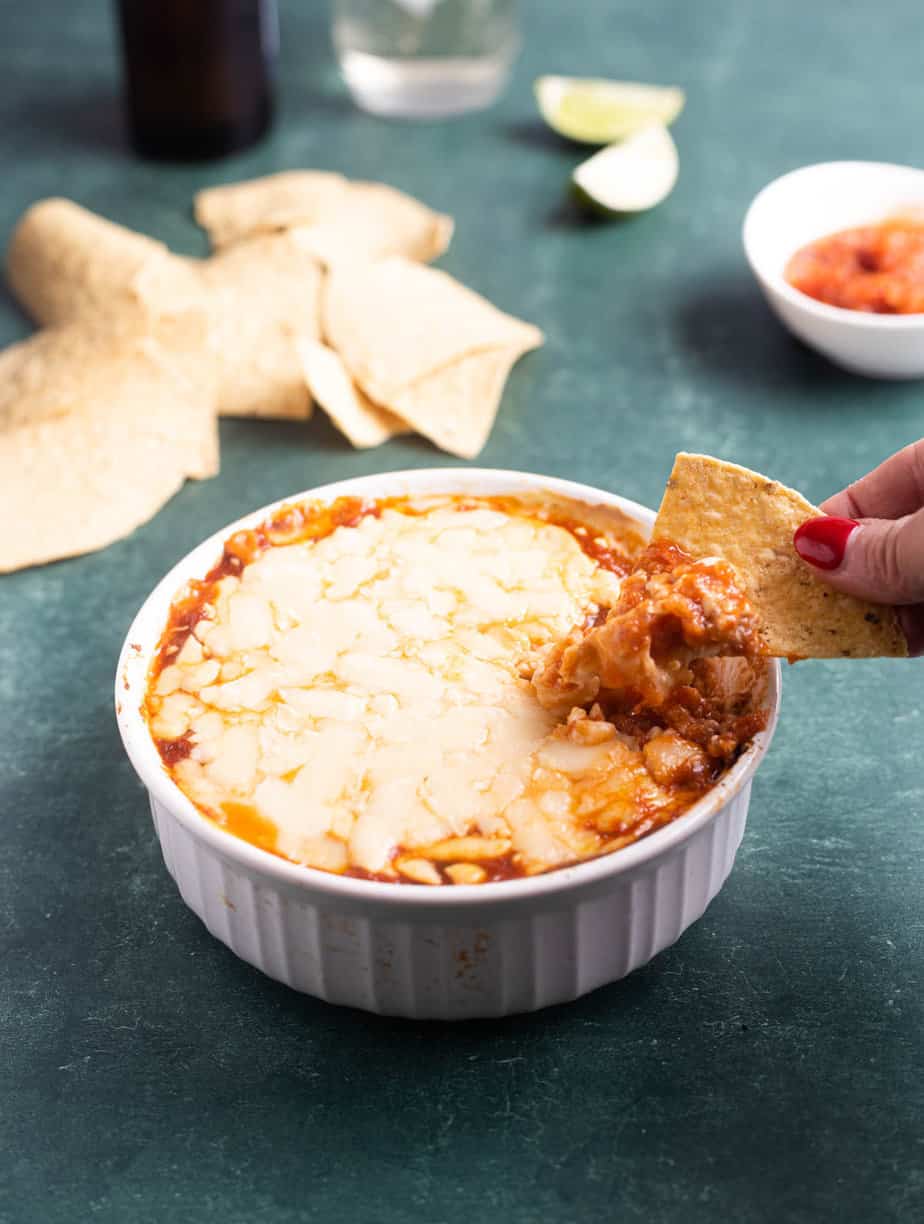 One of the simplest hot dips on the list, this four layer dip is made with tangy cream cheese, spicy salsa, smooth refried beans and topped with melty cheese. This is THE dip for football season (or any occasion!).
Grab the recipe for this layer dip here.
13. Creamy Vegan Spinach Artichoke Dip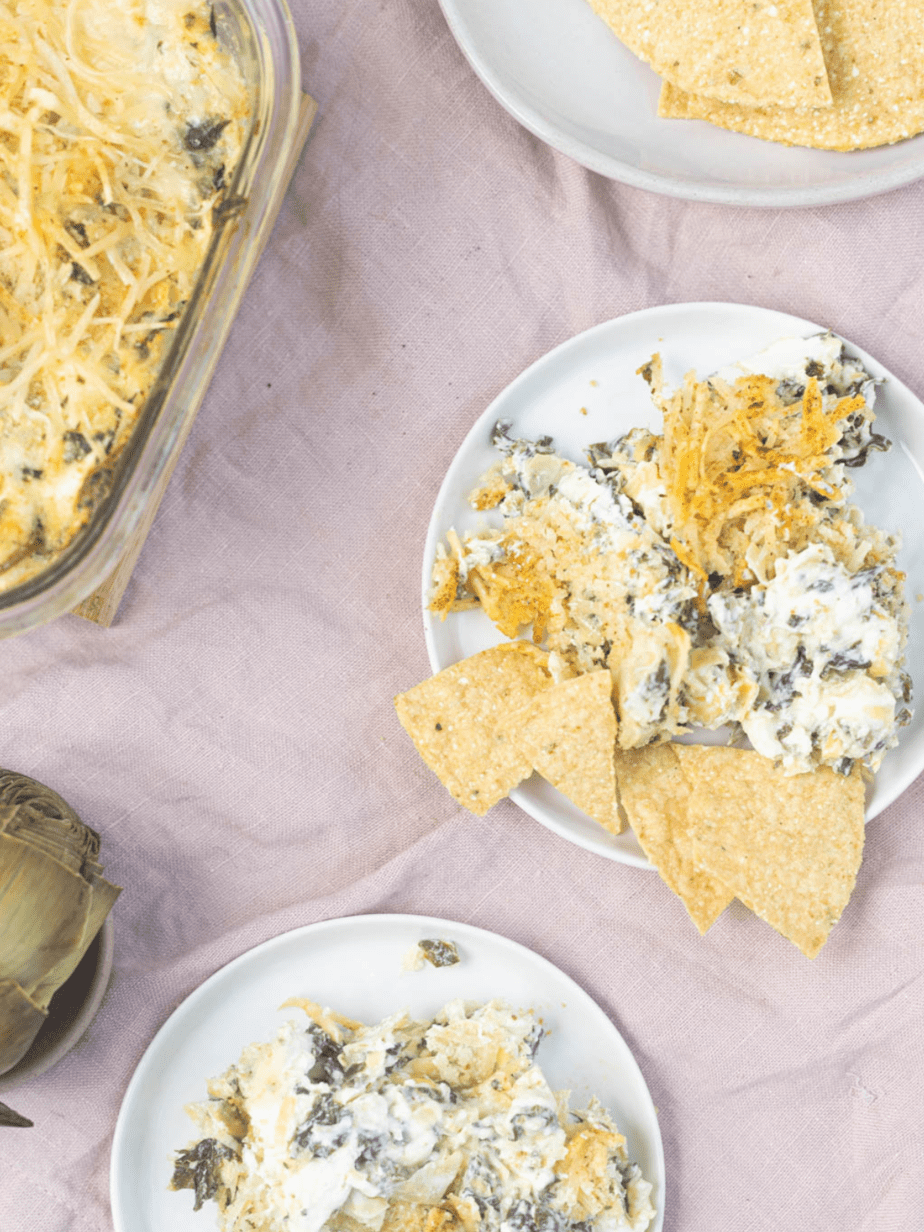 The ultimate comfort dip, this Creamy Artichoke Spinach Dip is the perfect balance of saltiness and nuttiness. Creamy and full of flavor, grab your bread and get ready to "dunk" in.
Find the recipe for this creamy spinach dip here.
14. Cashew Queso Dip
The OG of hot, dairy free dips, this savory queso dip is made from cashews and takes only minutes to make. The best part is - you can make this in your microwave!
Find the recipe for this queso here!
15. Black Bean Dip
Enjoy delicious Black Bean Dip made with mild green chilies and a secret ingredient! Quick to make and full of healthy ingredients, it Is perfect for football season.
Grab this recipe for this black bean dip here.
16. Muhammara
Muhammara is an easy and creamy warm Roasted Red Pepper and Walnut Dip filled with delicious Middle Eastern flavors from ingredients such as pomegranate molasses and Aleppo chili flakes.
Find the recipe for muhammara here.
17. Mutabbal
Mutabbal is a Middle Eastern silky, lemony, garlicky, smoky, eggplant dip. Made with tahini, this eggplant dip is often confused with Baba Ganoush.
The recipe for mutabbal can be found here.
Dessert Dips
18. Sugar Cookie Dip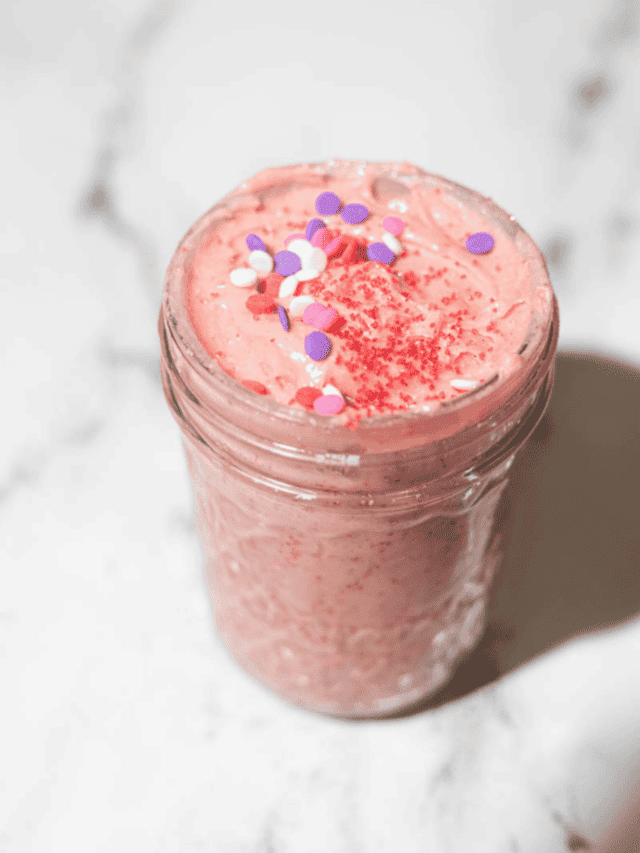 Get your apples and graham crackers ready to be dipped into this Sugar Cookie Dip. Tasting like the real thing, but only taking five minutes to make, this is the perfect dessert dip for any occasion.
Find the recipe for this sugar cookie dip here.

19. Pumpkin Cookie Dough Dip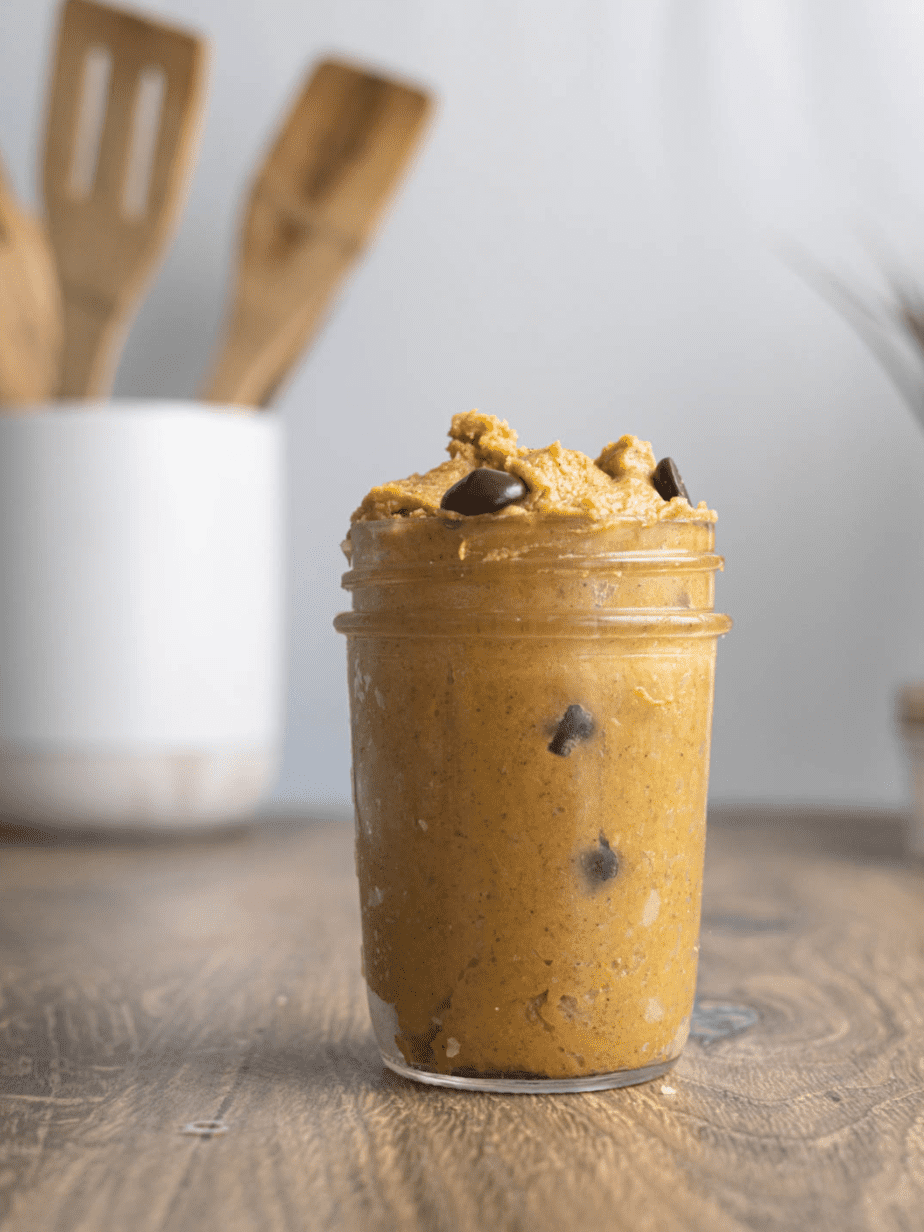 Celebrate the fall season with this delectable Pumpkin Cookie Dough Dip. Quick to make and full of fall warm spice flavors, bring this dip apple picking or to a Halloween party.
Grab the recipe for pumpkin dip here.
20. Vegan Fruit Dip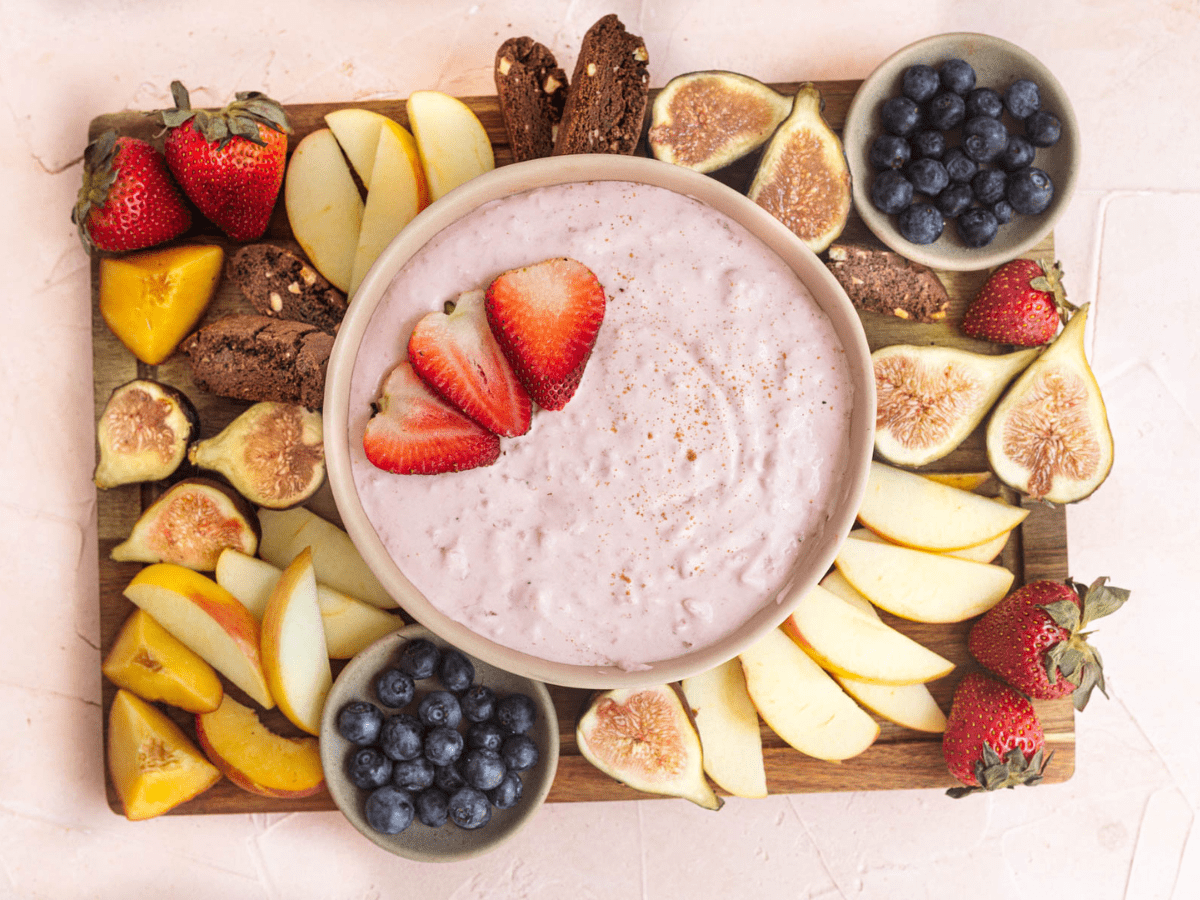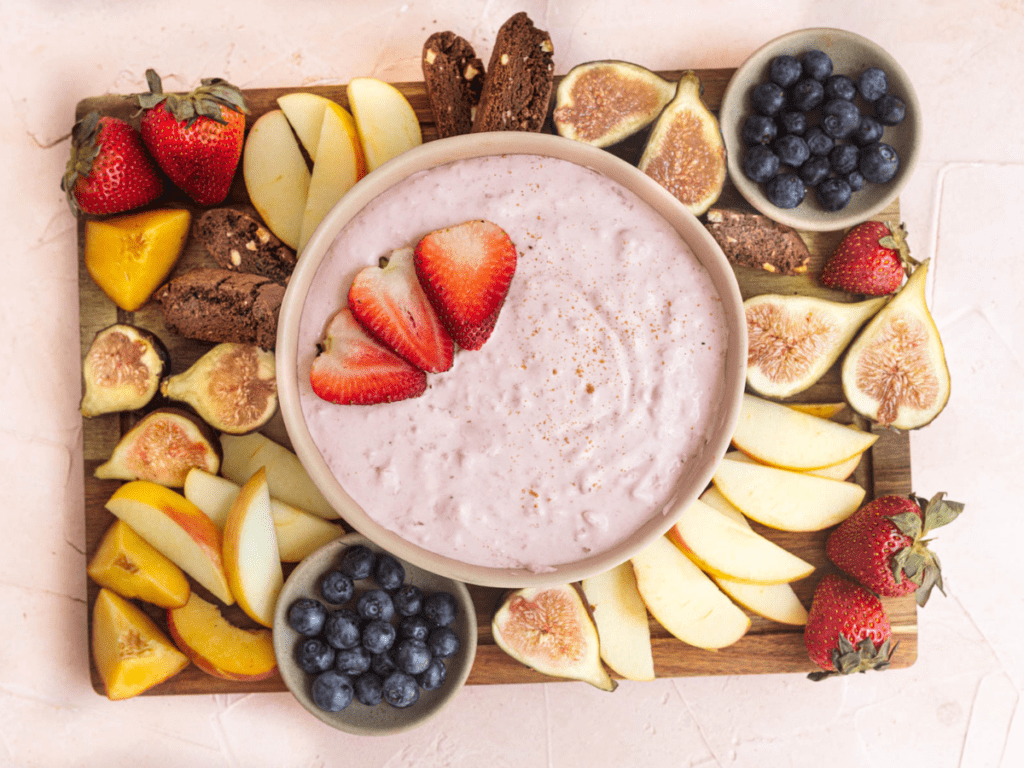 Creamy, velvety Cheesecake Fruit Dip is the perfect dip to dunk any fruit or cookie into. Make this dip within a matter of minutes.
Find the recipe for cheesecake dip here.
21. Nut Free Chocolate Spread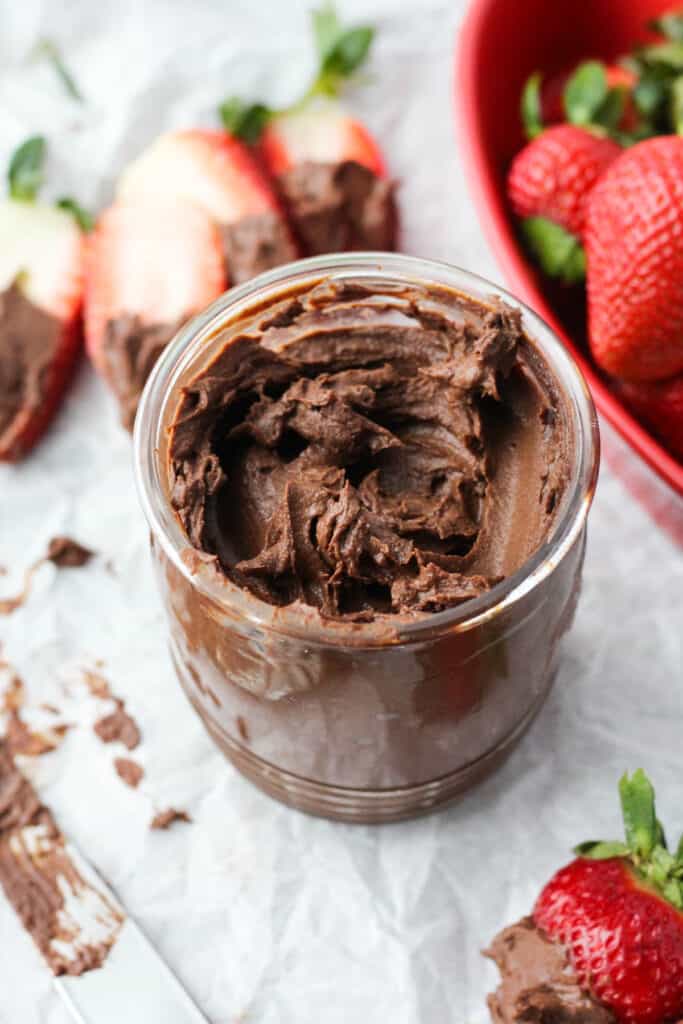 What is more delicious than dipping fruit or other sweet treats into a fudgy, smooth chocolate spread? I do not think anything. This Nut Free Chocolate Spread is easy to make and a healthy, flavored packed dip.
Grab the recipe for this chocolate dip here.
22. Caramel Dipping Sauce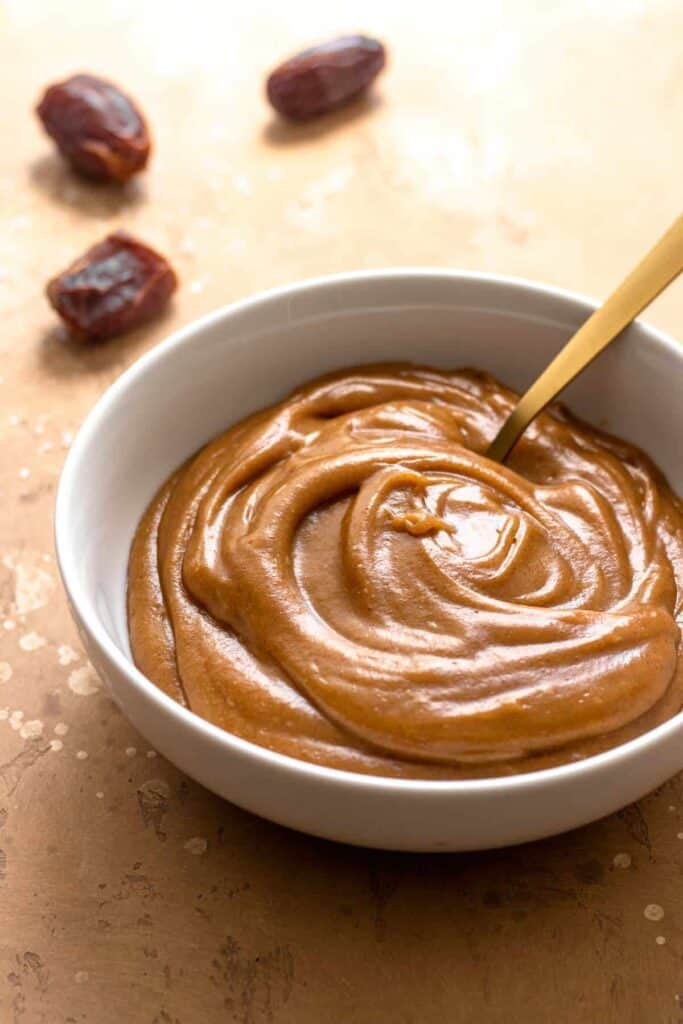 An easy-to-make, sweet staple that should be in every household, add this vegan caramel dipping sauce to cocktails, ice cream and so much more.
Grab this caramel sauce recipe here.